Jump to Recipe
These focaccine are the perfect savoury snack. With a pillowy soft crumb and golden crispy crust, they are irresistible!
I love baking with yeasted doughs, and lately, I have been having a thing for breads. I do like to experiment with different new flavours but most of the times, I tend to fall back to the classics. Focaccia is one of those breads that will always has a special place in my heart. That soft pillowy crumb, filled with all those air bubble holes…it's amazing! Recently, I have discovered focaccine; let's say they are the children of focaccia. Focaccine, are smaller versions of the focaccia. They can be enjoyed as savoury snack for your or for your children, or else, instead of bread during a meal. Also, they make a great nibble addition to an aperitivo or to be served at your next party! They are relatively easy to make and don't require that much effort as much as traditional focaccia does.
How to make Focaccine?
All you need to make these focaccine are basic ingredients. The most important thing to note is the flour. As the focaccine are bread, you will need to use strong bread flour. I used a mix of 00 flour and Manitoba flour, which are the two most popular flours used for bread in Italy. The mixture of these two flours will result in softer focaccine. As this dough doesn't need that much of kneading, you can either use a mixer with a dough hook, or else simply knead it by hand.
First, you will need to start by activating the dried yeast in the lukewarm water and milk, with the sugar. Mix the flour and salt together. When the yeast is all foamy, combine it with the flour, olive oil and knead until you get a smooth dough. Here, you will need to let it rest until it doubles in size in a warm place. I leave mine in the oven turned off for between an hour or two. How long will it take, depends on how warm your environment is. Once it's doubled in size, open the dough over a clean lightly floured surface. With a cup or a cookie cutter, cut circles from the dough. Place the focaccine on a lined baking sheet, cover and let it rest for another hour, until they are doubled in size.
Press with your finger gently in each focaccia and brush it with brine (olive oil and water mixture). Top your focaccine with the toppings of your choice and bake for about 20 minutes in a 200°C/390°F pre-heated oven.
What size can you make them?
In this recipe, I made the focaccine quite small. I have used a 6cm diameter cup, and they turned up all cute. They were great to give to my toddler son. However, if you want you can make them larger, with a 12cm diameter. If you make them slightly larger, they will be great to use as a sandwich bread and fill up with your favourite cheeses and cured meats.
FAQS
What to top the focaccine with?
I can easily answer this by saying; you can top them with anything you like! Some options I have tried and work well, are a simple drizzle of salt, sliced olives, sliced tomatoes, rosemary sprigs or thyme leaves; onions work as well and even courgettes. These focaccine are so versatile, that you really can enjoy them with your favourite toppings!
Can you make them vegan?
Of course! In this recipe, I use milk and water as this help to achieve a lighter fluffy dough without having to proof it for longer. However, if you use just water, you will have an amazing result as well! Or else, you can also use your favourite non-dairy milk, which in these types of doughs work just as great! However, I wouldn't recommend using coconut milk in here.
Can you freeze the focaccine?
Yes, you can freeze these focaccine as you would with focaccia. These breads are ideally stored in a cool dry place and eaten within two/three days of making them. You can either warm them up slightly or eat them straight as they are.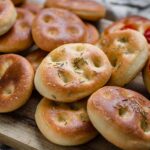 Print Recipe
Focaccine
These focaccine are the perfect savoury snack. With a pillowy soft crumb and golden crispy crust, they are irresistible!
Servings:
24
small focaccine
Ingredients
Focaccine
250

g

00 flour

250

g

Manitoba flour

5

g

  active dry yeast

145

ml

water

lukewarm

145

ml

milk

lukewarm

10

g

salt

5

g

sugar

30

ml

olive oil
Toppings
salt

cherry tomatoes

sliced olives

herbs

rosemary/thyme
Instructions
In a small bowl mix together the lukewarm water, milk, yeast and sugar. Set the mixture aside until it froths. This usually takes about 15 minutes.

In a mixer or in a large bowl, mix the flours and salt together and make a well. Add the olive oil and the yeast mixture in the well.

Start kneading or mixing the dough in the mixer. Knead for a few minutes until you get a smooth dough.

Place the dough in a bowl, cover and let it proof for about 1 hour or 2 hours. After this resting time it should be double in size.

 Line a baking tray with parchment paper. Set aside.

Gently flour your working surface and open the dough to about 0.5cm thickness.

With a cup or a cookie cutter, cut circles from the dough. Place the focaccine on the prepared tray, cover and let rest for another hour, until they are doubled in size.

Preheat the oven to 200°C or 390°F.  Mix the water and olive oil together with a blender to make the brine. Set aside.

Once the foccacine have doubled in size, gently press your finger in the dough to make about 4/5 dimples on each piece of dough. Brush each focaccia with the brine and top with your favourite toppings.

Bake the focaccine for about 15/20 minutes, until they have a nice golden colour.

Let cool for a few minutes and enjoy!
If you have any questions, feedback or comments on this recipe, please leave a comment below. Please also rate this recipe by double clicking on the stars below. If you did make this recipe, tag @apronandwhisk and hashtag #apronandwhisk, as I'm curious to see what you create!
Don't forget to subscribe to the mailing list down below so to receive the recipe updates straight to your mailbox!