Jump to Recipe
An old traditional Maltese recipe, Għaġin Grieg, which literally translates to Greek pasta, is a rich pasta made from a slow cooked mixture of pork mince sauce.
What is Għaġin Grieg
Għaġin Grieg is a traditional Maltese dish that literally translates to Greek pasta. Unfortunately, from my research I couldn't pin point from where the name originates. However, as Malta is an island in the middle of the Mediterranean we get a lot of influences in our cuisine from other islands and places around us. Therefore, this might be a version of a dish which has found it's way to our islands, and kept a link in it's name. If you look through our Maltese cuisine, għaġin grieg might not be the most popular dish, in fact, I asked several people and they had no idea of this dish. However, if you dig deep in the 'old' traditional Maltese cooking you will see this dish popping over and over again. In addition, lately I've been seeing this dish making a hit appearance in several Maltese cuisine restaurants. Thus, even though it's not the most known, I wouldn't skip this dish as it's truly flavourful and mouth watering!
How to make this pasta dish
Making this dish is really easy. However, it might not be the best dish to cook when you are in a hurry, as ideally you let the sauce cook gently on low heat to achieve the most flavourful dish. To make this sauce, start by sautéing the onion in butter, once translucent add the garlic. If you like, you can add wine to deglaze the pot, although this can be skipped. Add the minced pork, bacon and seasoning to the pot. Let them cook until the meat starts breaking up. Add the chicken stock and cook on medium heat for 15 minutes, while stirring frequently and breaking down the meat. Cover the pot and let it simmer for about 2 hours until the fats from the sauce rise to the top. When ready to serve, cook the pasta according to the package instructions and mix with the sauce and grated cheese.
FAQs
Do I have to let the sauce cook for long?
Ideally yes! Letting the sauce cook slowly, let's the pork release all it's delicious juices and fats, which at the end make a richer denser sauce. However, if you are in a time crunch, you can shorten the cooking period. Although, I would suggest to cook the meat well before adding the stock, and to reduce the amount of stock listed here.
Can I use other type of mince?
Although, pork mince and bacon are traditionally used, you can switch the meats up! Beef mince works great on it's own and even mixed. Lamb will work as well, however the cooking with this mince might need to be monitored more! Lastly, you can also add some Maltese sausage to the mix instead of bacon. However, be careful with the seasoning! I suggest to only add salt when the sauce is almost ready, and to add slowly if you deem necessary.
Can I store any leftovers?
Actually, you can prepare this sauce even a day in advance. Letting the sauce cool will make it even richer with a deeper stronger flavour. If you have any leftovers, I suggest to store them in airtight container in the fridge for not more than 3 days.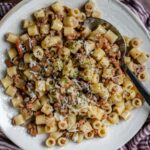 Print Recipe
Għaġin Grieg
An old traditional Maltese recipe, Għaġin Grieg, which literally translates to Greek pasta, is a rich pasta made from a slow cooked mixture of pork mince sauce.
Ingredients
160

g

ditalini pasta

300

g

pork mince

100

g

bacon

minced

250

ml

chicken stock

80

g

butter

1

small white onion

4

garlic cloves

1

tsp

black pepper

1

tsp

dried oregano

2

bay leaves

125

ml

white wine

optional

50

g

grated kefalotiri/ parmeggiano reggiano / grana padano
Instructions
In a large pot or dutch oven, melt the butter and cook the onion until translucent. Add the garlic and let cook for a minute. Here, you can use wine to deglaze the pot.

To the pot, add the minced pork, bacon, and all the seasonings. Cook for about 15 minutes, whilst stirring it frequently making sure to break the mince into small pieces.

Add the chicken stock and cover the pot. Let simmer on low heat for about 2 hours. Making sure to stir occasionally. Once the sauce is ready, the fats from the meats will rise, taste and season accordingly, if needed. Remove the bay leaves.

When ready to serve, bring to boil a pot filled with water. Once it starts to boil, season with plenty of salt. Add the pasta and cook as instructed on the package or until al dente.

As soon as the pasta is ready, add it to the meat sauce together with the grated cheese. Mix well and serve with some extra grated cheese and a sprinkle of fresh herbs.
If you have any questions, feedback or comments on this recipe, please leave a comment below. Please also rate this recipe by double clicking on the stars below. If you did make this recipe, tag @apronandwhisk and hashtag #apronandwhisk, as I'm curious to see what you create!
Don't forget to subscribe to the mailing list down below so to receive the recipe updates straight to your mailbox!