Jump to Recipe
Arjoli is a rich herby savoury dip, traditionally served with snails. Although, it can be enjoyed just with bread or fresh veggies.
In Malta one of the main dishes is snails. Commonly served as a stew or as an appetizer, snails are served with a generous helping side of arjoli. Arjoli, or aljoli, not to be confused with the famous garlic aioli, is made from every day ingredients found in all Maltese kitchens. Galletti (find the recipe here) or day old bread are the base of the dip. These are crushed into crumbs and then soaked with water or white vinegar. When adding the white vinegar, be wary that this will make the dip a bit more acidic. After letting them soak it's important to squeeze dry to remove any extra liquid, so that the dip doesn't get too soggy. 
My recipe here is based on the one my father makes whenever he cooks snails. Personally I am not a big fan of snails, but will gladly eat a generous amount of arjoli with fresh crusty bread.
What's in the Arjoli dip
Apart from the crushed galletti or the day old bread, the dip is made from a plenty of other ingredients. These include, a white onion, plenty of garlic cloves, bunches of fresh mint and parsley, tomato paste, olives, capers, anchovies and generous amounts of olive oil. As you can see these are all salty ingredients, so if you aren't a fan of extra salty recipes you can either slightly rinse these ingredients prior to adding them to the dip or else add lesser amounts.
Variations of the dip
This recipe here is the one we make at home, however it's not the only way to make this dip. As any other traditional recipe, every family has their own version. You can add a can of tuna instead of or together with the anchovies. You can also make it completely vegan and remove the anchovies. The dip gets its red orange hue from using tomato paste. However, you find versions that apart from the tomato paste, they also add fresh tomatoes or sun-dried tomatoes. The latter adds more saltiness to the dip so I recommend adding them in a responsible way to balance with the other ingredients.
White vinegar is also an optional addition. In my recipe I don't add any additional salt as the dip is already quite salty, however you can find variations which actually add more salt. I recommend to taste the dip before trying to add any.
A smooth or chunky dip?
Normally dips tend to have more of a smooth texture. However, the arjoli can be either velvety smooth or chunky with small bits. I personally prefer my dip slightly on the chunky side. Although both are incredibly delicious. If you want a smooth dip, I recommend to add more drizzles of olive oil in the dip and blend it for a little longer until silky smooth.
How to serve
As mentioned above, traditionally the arjoli is a dip to be served with snails. However, if you aren't a fan of snails, don't worry, the dip can be enjoyed in many more ways! Either serve it as a dip on its own with a side of Galletti, bread and fresh veggies; or else, lather a piece of bread with the dip. You can also add a dollop to your favourite fish plate.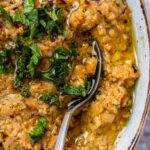 Print Recipe
Maltese Arjoli Dip
Arjoli is a rich herby savoury dip, traditionally served with snails. Although, it can be enjoyed just with bread or fresh veggies. 
Ingredients
150

g

galletti (water biscuits) or day old bread

1

white onion

small

4

garlic cloves

or more

8

large green olives

4

anchovy fillets

1

tsp

capers

80

g

tomato paste

30

ml

white vinegar

or water

120

ml

olive oil

1/3

cup

mint

1/2

cup

parlsey

1

tbsp

chili flakes

1

tsp

pepper
Instructions
Crush the galletti or the bread in a food processor to make breadcrumbs. Mix in the vinegar (or water) and let them sit while you prepare the other ingredients.

In a food processor add all the other ingredients except the olive oil. Pulse until everything is finely chopped and almost paste like.

Add the soaked galletti or bread together with the olive oil to the mixture. Blend together until a paste forms. Add more oil if the consistency is too thick.

Serve with more galletti or bread on the side, fresh vegetables and snails.
If you have any questions, feedback or comments on this recipe, please leave a comment below. Please also rate this recipe by double clicking on the stars below. If you did make this recipe, tag @apronandwhisk and hashtag #apronandwhisk, as I'm curious to see what you create!
Don't forget to subscribe to the mailing list down below so to receive the recipe updates straight to your mailbox!