Jump to Recipe
Dense and chewy traditional Maltese Christmas log, made from crushed biscuits, a mix of nuts, chocolate and candied cherries.
One of my ultimate favourite Christmas treats has to be the Maltese Christmas Log. Every year, during the month of December everyone starts to prepare their preferred log ahead of the festivities. It is the ideal treat to have on hand when visitors come to visit, a delicious gift or simply an addictive treat to have at home to enjoy with some coffee or mulled wine! In my family the Christmas log task has always been my aunt's! Every year, she prepares a huge quantity of logs for us to enjoy and to share with our friends and family! This recipe here in fact, is an adaptation from my aunt's classic recipe!
What is a Maltese Christmas log?
Christmas logs or yules are basically a tradition all over the world. A cylindrical dessert covered in chocolate and made to look like a tree's trunk. The most popular logs or yules are made of a sponge cake and filled with a creamy filling which then gets rolled to form a cylinder. However, the Maltese Christmas log is different.
The Maltese Christmas log is in a way a hybrid of the more famous dessert chocolate salami by the Italians. Although, there isn't that much similarity between the both. The base of the Christmas log consists of crushed butter biscuits and condensed milk. Additionally, a mix of nuts are added; usually the most commonly used are hazelnuts and walnuts, however this is really up to your likings! The next ingredient – candied cherries or mixed fruits – might cause a bit of a debate on your dining table but I personally think it adds some extra sweetness!
Finally, I like to finish it off with a good helping of cacao powder to make the log more rich in flavour. Although, lately I've discovered that there are people who omit this, so it's really up to you! Lastly, if you can, add a splash of alcohol in there to celebrate even further! My favourites have to be white vermouth or brandy!
Decoration
Traditionally, Christmas logs are decorated with a dust of icing sugar and small Christmas figurines, such as a Christmas Father, a Snowmen, a tree etc. Although, the choice is up to you!
More Christmas Desserts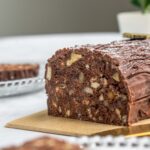 Print Recipe
Maltese Christmas Log
Dense and chewy traditional Maltese Christmas log, made from crushed biscuits, a mix of nuts, chocolate and candied cherries. 
Ingredients
450

g

Morning Coffee/Petit Beurre biscuits

45

g

cocoa powder

6 tbsp

100

g

walnuts

100

g

hazelnuts

125

ml

vermouth

1/2 cup optional

100

g

whole candied cherries

400

g

condensed milk

150

g

chocolate

melted
Instructions
Start by roasting the walnuts and hazelnuts until fragrant. Let them cool and chop into medium sized pieces.

In a food processor finely crush all the biscuits.

In a large bowl, add the crushed biscuits, chopped nuts, cocoa powder, and whole candied cherries. Combine together.

Add the condensed milk and the vermouth, if desired. With your hands mix everything well together until you achieve a sticky mixture.

Roll this mixture in a cylindrical shape and set aside for now.

Melt the chocolate and cover the log shaped dessert completely. To get the trunk texture, you can simply pass through the melted chocolate with a fork to get all those ridges.

Let the chocolate harden before slicing through it and don't forget to add your decorations with a sprinkle of icing sugar.

Ideally, the Christmas log doesn't get stored in the fridge as this will make it dry.
If you have any questions, feedback or comments on this recipe, please leave a comment below. Please also rate this recipe by double clicking on the stars below. If you did make this recipe, tag @apronandwhisk and hashtag #apronandwhisk, as I'm curious to see what you create!
Don't forget to subscribe to the mailing list down below so to receive the recipe updates straight to your mailbox!