Jump to Recipe
Layers of delicious smooth mascarpone cream, juicy mirabelle plums and crumbled madeleines make this scrumptious summer treat: the Mirabelle dessert cups!
Summer fruits have to be my favourite. At our place during these months we always have plenty of seasonal fruits on hand. Apart from my toddler being a huge 24/7 fruit lover, we all love ending our meals with some fresh fruit! So, when our friends told us that they were bringing us some mirabelle plums from their tree we were overjoyed! We love eating these little plums just as they are but they are so versatile to cook with as well.
Usually I always bake tarts or cakes with these mirabelle plums, so this time I wanted to try something different and maybe fresher. I took some inspiration from the multiple desserts I see around in restaurants during this season, who are making good use of this succulent fruit. A common trend I have seen was a type of dessert made with cream, cooked plums and a type of cake or biscuits. I've seen plenty of mirabelle tiramisù and mirabelle trifles, which got me intrigued. Therefore, I tried this recipe my way and created these mouth-watering mirabelle dessert cups.
What are Mirabelle Plums?
Mirabelle plums are sweet and juicy yellow little plums with a delicate aroma. They're really popular in the French region of Lorraine, where most of the world's mirabelle supply is cultivated. In fact, the Lorraine Mirabelle has been recognised by the EU as a high-quality regional product, with a Protected Geographical Indication (PGI). Before moving to Luxembourg, I didn't know about the existence of this succulent fruit, and to be honest, I don't know if this fruit was actually available in Malta while growing up there. Nonetheless, since discovering mirabelle, me and my husband have been every year anxiously waiting for August to be able to get a hold of this exquisite fruit.
Ingredients for Mirabelle Dessert Cups
Mirabelle Plums – these are the star ingredient of this dessert, so get some fresh ripe mirabelles for a better result. If you don't find mirabelle plums close where you live, any type of other plum will work and even peaches or nectarines are great alternatives!
Mascarpone cheese – or else cream cheese. This will make the cream layer so much richer and give it a stronger flavour.
Heavy cream – will make the cream a bit more airy and luscious.
Icing sugar – to add a bit of extra sweetness!
Vanilla Sugar – adding this to the plums while cooking will make them caramelise while getting a sweeter aroma. If you can't find vanilla sugar, replace it by normal sugar and vanilla extract.
Lemon juice – drizzle some lemon juice while the fruits are cooking so to balance all the flavours out.
Butter – because what is a dessert without butter? I add the butter to the fruit while they are cooking so to give them a richer and deeper flavour. Also, the butter helps to create a beautiful fruit sauce.
Madeleines – are French small sponge cakes, that are so addictively good! If you can't find them, you can use any sponge cake. Also, you can substitute this with biscuits such as amaretti biscuits or lady fingers!
How to make Mirabelle Dessert Cups
These Mirabelle dessert cups are perfect to do during the warmer months as they only take 30 minutes to make and do not require much work! I like to start from the most tedious and time consuming task for this recipe; cutting and removing the pit of each plum. Luckily, the pit of the mirabelle plums is easy to remove and doesn't require a lot of strength to actually remove it. Once this is done, the mirabelle plums need to be cooked in pan with butter, vanilla sugar and lemon juice. This will soften the fruit whilst also caramelising it and producing a luscious juicy sauce.
While it's cooling, it's time to prepare the mascarpone cream. In a large bowl, whip the heavy cream together with icing sugar until there are stiff peaks. Gently fold in the mascarpone and store in the fridge until ready to use. To assemble these dessert cups, start with a layer of the cooled cooked mirabelle plums and their juice, top with crumbled madeleines and mascarpone cream. Repeat until the cup is filled to the top and finishing with a layer of mascarpone cream. Decorate these cups with crumbled madeleines and mirabelle plums. Store in the fridge until ready to serve. Ideally these Mirabelle Dessert Cups are prepared in advance so that the layers in the cups get to know each other better.
Other ways to use Mirabelle Plums
You can find almost anything made from mirabelle plums, however, they're mostly transformed into liquors, eau-de-vie, jams and syrups. It is definitely greatly used in the baking of tarts and cakes. They also work well in savoury dishes. Check out the following mirabelle recipes already on my blog!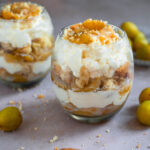 Print Recipe
Mirabelle Dessert Cups
Layers of delicious smooth mascarpone cream, juicy mirabelle plums and crumbled madeleines make this scrumptious summer treat: the Mirabelle dessert cups!
Ingredients
250

g

mascarpone

150

g

heavy cream

60

g

icing sugar

2

sachets vanilla sugar

1

tsp

lemon juice

1/2

tbsp

butter

50

g

madeleines or any sponge cake

crushed

450

g

mirabelle
Instructions
Cook the mirabelle
Cut the mirabelle plums in half and remove the seeds. Once all the fruit is halved, add them to a saucepan together with the vanilla sugar and butter. Add the lemon juice when the butter melts and the fruit starts cooking.

Cook everything until the fruit start to soften and caramelise, and a thick sauce starts to form. This will only take a couple of minutes. Take off the heat and let cool completely.
Mascarpone cream
While the mirabelle plums are cooling. Place the heavy cream and icing sugar into a bowl. With an electric whisk or in a stand mixer whip the mixture to stiff peaks. Gently fold in the mascarpone cheese. Store in the fridge until ready to assemble the dessert cups.
Assembly
Start by adding a layer of mirabelle plums with their sauce at the bottom of each cup.

Crumble the madeleines into small pieces and make an even layer in each cup. Top this layer with a generous layer of mascarpone cream. Repeat until the cup is full and end up having a layer of cream at the top. Decorate with some crumbled madeleines, mirabelle plums and a drizzle of the sauce.

Place the cups in the fridge until you are ready to serve. Enjoy!
If you have any questions, feedback or comments on this recipe, please leave a comment below. Please also rate this recipe by double clicking on the stars below. If you did make this recipe, tag @apronandwhisk and hashtag #apronandwhisk, as I'm curious to see what you create!
Don't forget to subscribe to the mailing list down below so to receive the recipe updates straight to your mailbox!