Jump to Recipe
This prawn linguine is the perfect hassle free and easy to make weeknight dinner! A simple dish yet bursting with flavour from the luscious tomato and prawn sauce.
When the weather starts to get warmer I immediately start looking for easy recipes which don't require the stove or oven to be on for hours. In fact, this dish is one of my favourite to make as it's extremely quick and doesn't require to make your kitchen feel like a sauna! Even though it doesn't have a lot of steps, the flavour is just as big as a if it was cooking for hours!
Choose your ingredients
In order to get the best result while making this dish, I suggest that you use quality ingredients. These ingredients will have all the focus on them so make sure that what you're using are delicious on their own. Most importantly, I'm talking about the prawns, cherry tomatoes and olive oil as they are the main stars here.
For this pasta dish I used linguine as they work perfectly with a light seafood sauce. The sauce lathers every piece of the pasta perfectly. Which yes, it can make you slurp up that delicious goodness. Also, don't forget to finish of with a 'scarpetta'! This is when you take a piece of bread to 'clean' and pick up all the tasty sauce which is still on the plate!
Easy to make
One of the main reasons why this prawn linguine keeps being a recurring dish in my kitchen is because it's easy to make! While I put my pasta water to boil, I start gathering my ingredients and prepping them. Then I start cooking the sauce and by the time the pasta is cooked the sauce is ready. All that's left is to quickly mix them together and serve it up! For serving, I like to sprinkle some lemon zest for added freshness. Another great topping would be some roasted breadcrumbs for extra crunch.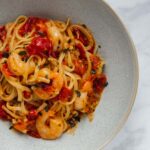 Print Recipe
Prawn Linguine
Ingredients
200

g

Linguine pasta

or any long pasta*

180

g

prawns

fresh or frozen

150

g

cherry tomatoes

2

tbsp

olive oil

1

tsp

chili flakes

2

tbsp

fresh basil

chopped

125

ml

white wine

1/2 cup optional

2

garlic cloves

minced

1

tsp

salt

1/2

tsp

pepper

lemon zest
Instructions
If using fresh prawns it's important to clean them well from their shell and devein them.

In a large pot with salted water cook the pasta until al dente, according to the instructions on the package.

While the pasta is cooking, prepare the sauce.

Heat a large pan and heat the olive oil slightly. Add the minced garlic cloves and let it cook for a few minutes.

Add the chili flakes together with the cherry tomatoes. Let them cook for a few minutes until the tomatoes start to burst. Be careful as this might cause the oil to splash.

If using the white wine, add it at this stage and let it evaporate slightly before adding the prawns. Season with salt and pepper, and add the chopped basil.

Cook the prawns for a few minutes until they're nicely pink.

Once the pasta is ready, drain it but set aside about half a cup of the pasta water.

Add the pasta to the pan with the tomato and prawn sauce together with some of the pasta water. Mix well and let it in the pan for a few seconds until you get a nice luscious sauce. If needed add more of the pasta water.

Serve immediately, with an extra sprinkling of fresh basil and lemon zest.
Notes
*Based on the recommended serving on the packet, or if you want to serve this pasta as a starter or as a main dish. 
If you have any questions, feedback or comments on this recipe, please leave a comment below. Please also rate this recipe by double clicking on the stars below. If you did make this recipe, tag @apronandwhisk and hashtag #apronandwhisk, as I'm curious to see what you create!
Don't forget to subscribe to the mailing list down below so to receive the recipe updates straight to your mailbox!