Jump to Recipe
Ravjul Malti (maltese ravioli) are perfect little dough pockets filled with cheese and parsley. Their freshness balances perfectly with the tanginess from the tomato sauce they are served with.
For me, Maltese ravjul is one of those recipes which whenever and wherever I eat it, makes me feel at home.  It is special in a way, since  with its simplicity, it makes me feel always at ease and fills my heart with joy. I know this may sound a bit dramatic, but hey, we all have our things! And, this is one of mine! You might ask, "what is so special about it!? Don't Italians do the same thing, and is actually also known internationally?" Well yes, that's true. However, the Maltese ravjul are different in many ways: how the dough is made, with what they are filled and with what traditionally they are served with. 
Ravjul dough
Italian ravioli are made with egg pasta dough, while Maltese ones, can be easily done with no eggs. Even though you can find people who include an egg or two in their dough. This recipe doesn't have eggs in the dough.
The Filling
From all the different possibilities of filling you can use, the cheese filling is the most common one. In fact, when someone mentions the Maltese ravjul, you are automatically thinking of this cheese filling, mainly a popular Maltese cheese, known as 'ġbejna' (pl. ġbejniet). Ġbejniet are a soft and hard cheese made from goats milk. For this recipe I will be using ricotta instead of ġbejniet, as I'm living away from Malta and there is no store selling this Maltese cheese, and as till now I've never tried to make it. Together with the ricotta, the filling will consist of parsley, parmesan cheese, an egg and some salt and pepper. 
The sauce
When eating Maltese ravjul, either in a Maltese kitchen or at a restaurant, it is always served with a red tomato sauce. Even if the recipe might vary from one kitchen to another, the base is the same. 
When I was growing up, my mother used to make this simple deliciously rich tomato sauce, with an aroma that I would smell from my bedroom. The richness of this tomato sauce mainly comes from the Kunserva – Maltese tomato paste/concentrate – a staple in Maltese kitchens!
When I was growing up, even though I always loved ravjul (without doing any discrimination between the ricotta and ġbejniet filled ones) it took me time to start eating mine with the sauce, and would in fact only just drizzle some parmesan or kefalotiri cheese on top. Looking back I realise what deliciousness I was missing! Once I started growing up and my palate started accepting and falling in love with more food, my passion for cooking grew.
Family affair
In fact, one of the first tasks my mother used to give me to practice my cooking skills was to make this sauce! I used to love that she would allow me to prepare something for the evening's dinner. Even though the red sauce seemed easy, it did give me a hard time to get used to it. In fact, it actually was a constant battle, up until recently. Mainly because I was a bit traumatised from my first tries in making this sauce. In fact, in this recipe, after cooking the garlic in some olive oil, you have to introduce some tomato concentrate. Of course, being a small child, I used to dump it all at once while the heat was a tad bit higher than it was supposed to be, hence splattering the oil.
Let me tell you: it was painful! Luckily, I grew up and learned that you have to be more patient and cook things slower and lower! 
Recently, I was given my husband's family recipe for the ravjul dough, specifically from one of his aunts! It is perfect! This has become my go-to recipe for the ravjul, and my husband and I are making them frequently. We love making big batches and then freezing most of them for when we feel like. They freeze perfectly, and can be cooked from frozen which are ideal for when you want to eat something fast. 
Looking for more traditional pasta recipes?
Ross il-Forn – Maltese Baked Rice
Imqarrun / Għaġin il-forn – Maltese baked pasta
Froġa tat-Tarja (Maltese Pasta Omelette)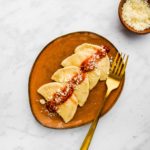 Print Recipe
Maltese Ravjul
Maltese ravjul are a perfect little dough pockets filled with cheese and parsley, which freshness balances perfectly with the tanginess from the tomato sauce.
Ingredients
Dough
500

g

flour

100

g

semolina

250

ml

water

pinch of salt
Ricotta Filling
500

g

ricotta

1

egg

70

g

parmesan cheese

grated

handful of parsley

chopped

salt & pepper
Tomato sauce
4

tbsp

kunserva (tomato paste/concentrate)

1

tbsp

sugar

1/2

cup

water

1

tbsp

olive oil

1

garlic clove
Instructions
For the dough:
In a bowl, or in a mixer with a dough attachment, mix all of the dough ingredients. Knead well for about 10 minutes. Cover the dough tightly in cling film and let it rest for about 30 minutes.
For the filling:
While the dough is resting, prepare the filling by mashing all the ingredients together with a fork until they are well combined. Cover and place in the fridge for about 30 minutes.
Assembling and cooking:
Dust some semolina on a sheet pan or two, and leave it on the side. Divide the dough into four equal parts. Work with one part at a time and leave the rest covered with the cling film. If you have a pasta machine this will make your job easier, however, no worries a simple rolling pin will be enough.

Roll the dough into about 0.5 cm thick as the dough shouldn't be so thin. Cut circles with an 8 cm cookie cutter or a glass. 

Fill these circles with a teaspoon of ricotta filling, and brush the edges with water. Close tightly around the filling. If you want, here you can use a fork to crimp the edges.

Place the ravjul on the semolina covered sheet pan and leave some space between one another, so that they don't stick together. Keep repeating these steps until all of your dough and filling are finished. 

To cook the ravjul, just boil some water seasoned with salt, and cook until the ravjul floats to the top, after approximately 8 minutes.
For the sauce:
Slice the garlic thinly and cook in the olive oil for a few minutes until it is soft. 

Carefully, add the kunserva (tomato concentrate) and the remaining ingredients and let it simmer for about 10 minutes. 

Serve the ravjul immediately with the sauce on top and some grated parmesan cheese.
Notes
You can also fry the ravjul. Simply, after boiling just place the ravjul in a hot frying pan with some oil and let them crisp up and brown. Enjoy warm alone or with some sauce.

If you aren't going to cook the ravjul immediately, place the sheet pan with the ravjul, in the freezer for about an hour. Afterwards you can easily take them off the pan and place them in a container or plastic bag. With this method they shouldn't stick together. They are now ready for you to enjoy whenever you want; just take them out from the freezer and put them directly into the boiling water. In about 10 minutes they should be ready.
If you have any questions, feedback or comments on this recipe, please leave a comment below. Please also rate this recipe by double clicking on the stars below. If you did make this recipe, tag @apronandwhisk and hashtag #apronandwhisk, as I'm curious to see what you create!
Don't forget to subscribe to the mailing list down below so to receive the recipe updates straight to your mailbox!