Jump to Recipe
Figolli (sing. figolla) are a Maltese Easter treat. A soft almond filling is sandwiched between two large lemon and orange flavoured biscuits. Afterwards, the figolli are covered and decorated with a layer of royal icing or chocolate.
Every year, many Maltese wait anxiously for Easter Sunday so they can dig into their figolla; especially those that spend the whole forty days of Lent renouncing sugar! Or there are people like me! As soon as they have a figolla can't wait to start eating it, and end up devouring a few before Easter even arrives.
The tradition
I still can remember that feeling of happiness when one of my relatives used to gift me a figolla. I would then go through my stash of figolli and plan when to eat them so that they last for a longer time!
Back in Malta, I used to live in a town where on Easter Sunday a traditional procession with a statue of the Risen Christ passed in front of my house, which together with my family, we used to watch from our rooftop. As soon as the procession passed my house, I would rush to get my favourite figolla of that year and with my cousin head down the street to the small chapel to get our figolla blessed by the Priest. I can't tell you how many times I went there with a whole figolla and came back home with it either shattered or else broken…I have always been clumsy!
These sweet memories come back flooding every year whenever I eat a figolla and always bring a smile to my face. Since I've been living abroad, I've never been to Malta for Easter, but every year, baking figolli makes me feel closer to home.
Every family in Malta has their own figolla recipe, yet the basis is always the same: two large biscuits with an almond – marzipan like – filling. Making figolli is a great family activity, and it is easy to get everyone involved: someone might be responsible for the pastry, others for the assembly and others, usually the kids, for the decorations. Figolli might be a bit labour intensive and you need patience to make them, but the importance of figolli is that they bring happiness while making, decorating and, most importantly, while eating them!
The figolli cutters!
Figolli aren't your standard biscuit! Traditionally, they are actually quite big and it's not recommended to eat a whole one in one sitting. The most common figolli cutters are about 20 to 30cm long, so you can understand why it's not ideal to eat a whole figolla at once! They come in various shapes and mostly are Easter related. The most common shapes are in fact, lamb, rabbit, duck, basket, heart and egg. However, you can also find cars, guitars, mermaids, butterflies and so on. After living away from Malta I have realised that getting hold on one of these cutters isn't an easy task, as they are quite specific cutters! Yet, if you ever make it to Malta, they are available to buy throughout the year. However, a parchment paper template easily solves the problem and might give you more freedom in creating new shapes.
How to decorate the figolli?
Traditionally, figolli are bright and colourful, decorated with royal icing in elaborate designs and with a half chocolate egg wrapped in foil in the middle. Nowadays, figolli are frequently decorated with a thick layer of chocolate and sprinkles or other candy. I personally prefer digging into a chocolate covered figolla, although I will never refuse a royal icing covered one! In this recipe, I'm making my figolli with melted chocolate and nuts. However, I encourage you to experiment and express your creativity while decorating them!
This recipe below makes about 4/5 large figolli. However, this year I wanted to experiment with some smaller cookie cutters I had at home. I managed to make, 3 large figolli, 1 medium sized and about 4 small ones. The small ones are ideal to nibble on while decorating the rest. In fact from this photo you can see that one is missing 😉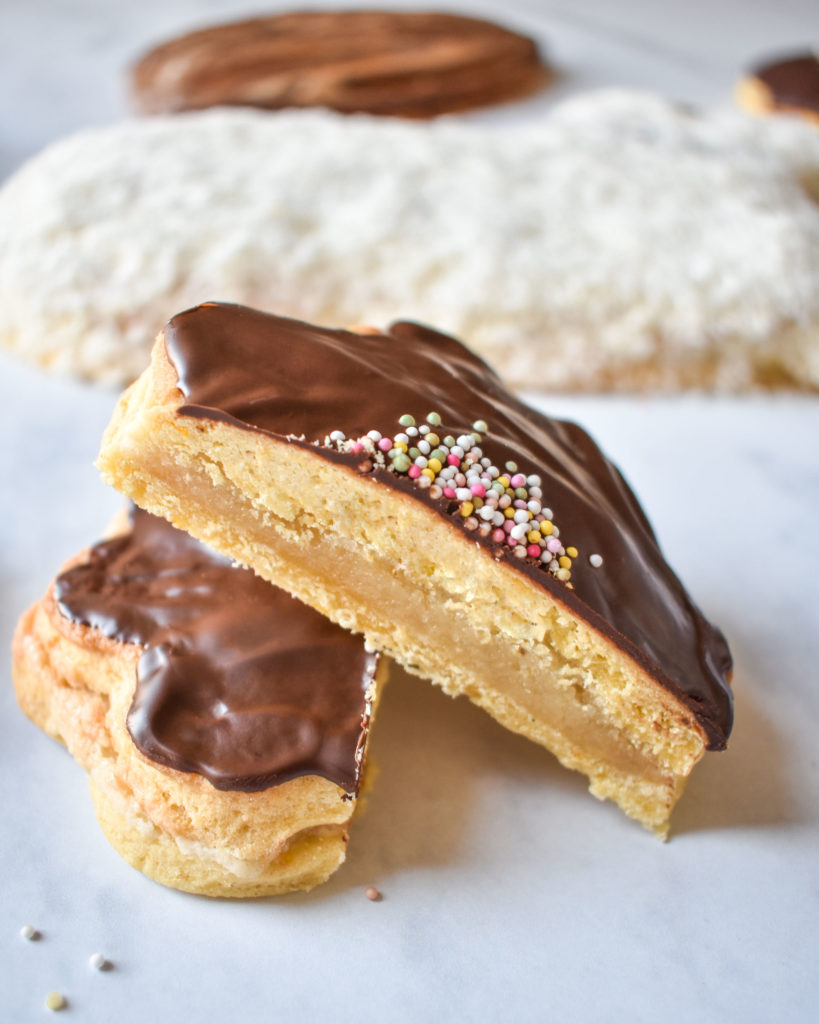 Happy Easter!

Hope that you enjoy this figolli recipe 🙂
Print Recipe
Figolli – Maltese Easter Treat
Figolli are made of a soft almond filling sandwiched between two large lemon and orange flavoured biscuits covered with a layer of royal icing or chocolate.
Ingredients
Dough
550

g

plain flour

(4 2/3 cups)

225

g

cold butter

(1 cup)

150

g

caster sugar

(2/3 cup)

zest of

one

lemon

zest of

one

orange

juice of

one

orange

3

egg yolks

2

tsp

vanilla extract
Almond filling
300

g

ground almonds

(3 cups)

300

g

icing sugar

(3 cups)

3

egg whites

1

tsp

almond essence

zest of

one

lemon
Decoration
300

g

chocolate

dark/milk/white (2 cups)

sprinkles

chopped nuts
Instructions
Preparation of the dough and almond filling
In a large bowl mix the flour and the cubed butter to a crumbly mixture. Add all the remaining ingredients except the juice of an orange, and mix well. Slowly start adding the juice and combine until a smooth soft dough is formed. Wrap in cling film and let it rest in the fridge for an hour.

For the almond filling, add all the ingredients together and mix well to get a paste. Do the same as before, wrap in cling film and refrigerate for an hour.
Baking the Figolli
Preheat the oven to 180°C or 350°F. Line a baking tray with parchment paper. Set aside.

Roll out the dough on a floured surface until it's 2 cm thick (do not go thinner than 1 cm). With the figolli cutter, cut the dough into the shapes you have and place them on the sheet of parchment paper, leaving some space between one another.

Place a generous layer of the almond filling on the dough. Cover the almond filling with another piece of dough with the same shape and seal well the sides.

Bake the figolla for about 30 minutes or until lightly golden as this depends on how big the figolla is.

When the figolli are cooked, first let them rest on the baking tray before moving them to a cooling rack as this may cause the figolla to break. After some minutes, transfer to a cooling rack to let them completely cool. It is best to let them rest for a while or even wait until the following day before decorating them.
Decoration
Decorate the figolli with melted chocolate (or royal icing) and the toppings you like. Be creative as much as you like!

Let set completely and enjoy!
Notes
Be generous with the filling as it is the main protagonist of the figolla!
Remember that it is very important that you don't roll the dough too thin, as it is quite fragile and can break easily.
If you make smaller shaped figolli, be careful with the cooking time as this may need to be decreased. 
Store the figolli in a cool dry place in a container or wrapped in cling film, and they can last for several weeks.
If you have any questions, feedback or comments on this recipe, please leave a comment below. Please also rate this recipe by double clicking on the stars below. If you did make this recipe, tag @apronandwhisk and hashtag #apronandwhisk, as I'm curious to see what you create!
Don't forget to subscribe to the mailing list down below so to receive the recipe updates straight to your mailbox!