Jump to Recipe
Easy to make fluffy and light mini ricotta doughnuts coated with flavoured vanilla and nutmeg sugar, which come together fast as there's no need for them to rise.
Who doesn't like doughnuts? I love them! I don't discriminate between baked and fried. However, if I had to choose, I'd always choose the fried ones as I have a slight preference for the fluffier doughy kind over the cakey baked doughnuts. Having said that, fried doughnuts require more work and effort and you need to have a little bit of patience with them. They require several hours of preparation, and proofing time tend to take long, however there is always a plus side: after all that patience and work you will be rewarded with a delicious fluffy doughnut!
Recently, I was craving doughnuts and as we were still limiting our time outside, I didn't want to go out just to get myself a doughnut! But to be honest, at the same time I wasn't in the mood to prepare and to wait for the doughnuts to rise for hours. I wanted something quicker! After checking what I had at home, these mini ricotta doughnuts happened. They are easy to make, no need to wait for them to rise and most importantly they are scrumptious. And now, I'm hooked! So I had to share it with you immediately 😉
All you need are just few ingredients which most probably you already have at home! Just some ricotta, sugar, flour, egg, vanilla, baking powder, salt and nutmeg. For these doughnuts, the main ingredient is the ricotta, as it is the one that gives the fluffy and soft doughnut texture we are looking for. Not only you require few ingredients, this recipe also comes together in a couple of minutes and you don't need to destroy your kitchen in the process, as all you need is a bowl and a saucepan to cook them in. Win! Just please be careful from the oil while cooking the doughnuts, especially while putting the dough into the hot oil. The dough for these doughnuts is more batter like, so to achieve the round shape as seen here, I would recommend to either pipe the dough out through a piping bag and gently cut the dough with a pair of kitchen scissors, or use 2 teaspoons and gently drop them into the oil or else you can even use an ice cream scoop and just pop them in the oil.
In addition, even though here I'm calling for vanilla and nutmeg sugar, which is done by simply mixing the three ingredients together, you can actually coat them with anything you like. You can easily just coat them with any flavoured sugar, such as lemon sugar, cinnamon sugar or just plain sugar, or instead just sprinkle them with some powdered sugar on top.
That's all! You now can make and enjoy these sweet light and fluffy doughnuts for a weekend brunch, as an easy dessert or simply if you are just craving a doughnut…like me!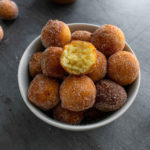 Print Recipe
Ricotta doughnuts with Vanilla and Nutmeg Sugar
Easy to make fluffy and light mini ricotta doughnuts coated with flavoured vanilla and nutmeg sugar, which come together fast as there's no need for them to rise.
Servings:
30
small doughnuts
Ingredients
For Ricotta Doughnuts
250

g

ricotta

1 cup

2

eggs

45

g

caster sugar

3 tbsp

2

tsp

vanilla extract

1/2

tsp

salt

1/2

tsp

nutmeg

grated

2

tsp

baking powder

150

g

flour

vegetable oil for deep frying
For Vanilla and Nutmeg Sugar
40

g

caster sugar

1

vanilla bean pod

seeds

1

tsp

nutmeg

grated
Instructions
In a large bowl sieve together the flour, salt and baking powder. Set aside.

In another bowl combine together the ricotta, eggs, sugar, vanilla and nutmeg.

Start adding the dry mixture slowly to the batter until thoroughly combined and you get a soft dough.

Fill a large pot with vegetable oil, pour enough oil so that the doughnut balls have enough space to cook in, about 7 cm. Heat the oil to about 170°C; you want the oil to be hot enough so that you reduce the cooking time avoiding that they get soggy, but at the same time you don't want the oil too hot that it burns the outside and leave the inside raw.

Meanwhile prepare the sugar mixture by combining the sugar, vanilla seed and nutmeg together.

Using a piping bag, ice cream scoop or two teaspoons, spoon the dough carefully into the oil and let it cook for about 2 minutes on each side until they puff up and get a golden colour.

Once they are cooked through, remove the doughnuts with a slotted spoon and place on some paper towels to drain the excess oil and let cool for a few seconds.

Toss the doughnut balls in the sugar mixture until well coated.

Repeat until you have used up all the batter. Ideally serve them immediately when they are still warm.
Notes
Important to not overcrowd the pot while cooking as this will cause for the oil temperature to drop. 
If you have any questions, feedback or comments on this recipe, please leave a comment below. If you did make this recipe, tag @apronandwhisk and hashtag #apronandwhisk, as I'm curious to see what you create!
Don't forget to subscribe to the mailing list down below so to received the recipe updates straight to your mailbox!