Jump to Recipe
Crunchy roasted garlic smashed potatoes with a fluffy interior are the side to make any dish better!
The name says it all! These are boiled potatoes that are smashed prior to roasting in the oven. The smashing part of this recipe is an essential part and what makes them a crowd pleaser. As the potatoes are boiled fork tender prior roasting, the inside of these potatoes is all tender and fluffy. This contrasts with the crispy crunchy outside skin. The crunchiness of these potatoes comes from the smashing. When smashing the potatoes down with a potato masher or glass, the potato breaks down which creates edges that will crisp up nicely once roasted.
These smashed potatoes can be enjoyed in multiple ways! You can serve them as a side with your favourite main, as an appetizer or even as a snack. With the festivities now just round the corner these smashed potatoes will make everyone ask for seconds.
You can either keep these smashed potatoes simple or else spice them up as you wish! Here I decided to makes these potatoes smothered in roasted garlic butter! However, you can top them with anything you fancy.
Roasted Garlic
Roasting garlic in the oven is a game changer. It's a simple thing to do but it elevates so many dishes. All you need is to remove any extra peel from the whole piece of garlic. Cut the top part and drizzle olive oil on the exposed garlic cloves. Wrap in foil and roast at 200°C/390°F for about 40 minutes. Once it's done simply let it cool slightly and squeeze out all the delicious smooth roasted garlic.
For this recipe, I chopped the garlic into a paste and added butter and herbs. Mixed everything well together and brushed it over the potatoes before roasting.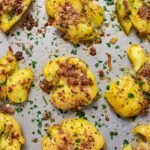 Print Recipe
Roasted Garlic Smashed Potatoes
Crunchy roasted garlic smashed potatoes with a fluffy interior are the side to make any dish better!
Ingredients
1

kg

potatoes

small

1

whole garlic head

2

tbsp

olive oil

50

g

butter

softened

4

tbsp

parmesan Cheese

1

tsp

thyme

2

tsp

oregano

1

tsp

rosemary

1

tsp

pepper

1

tsp

salt

½

tsp

chili flakes

parsley

for garnish
Instructions
Roasted garlic butter
Pre-heat the oven to 200°C/390°F.

Remove most of the outer peel of the garlic and cut off the top part of the head of garlic. Drizzle the exposed garlic with the olive oil.

Wrap in foil and roast in the oven for about 40 minutes. Check the centre garlic clove, if it is soft you can stop baking, if not it needs additional cooking. You can roast it for more to add some caramelisation. However, check the garlic every 10 minutes so that it doesn't burn. Once ready, let the garlic cool. Squeeze out the garlic and mash it with a fork.

In a small bowl mix together the softened butter, mashed garlic, grated parmesan cheese, thyme, oregano, rosemary, chili flakes, salt and pepper.
Roasted Potatoes
In a large pot of salted water, boil the potatoes for about 30 minutes or until they are just fork tender. This will mostly depend on the size of your potatoes.

Drain the potatoes and set aside to dry steam for some minutes.

Grease a baking tray with some olive oil.

Add the potatoes to the baking tray, using a potato masher or a cup, gently flatten the potatoes. Let them dry steam for about 5 minutes.

Brush over the potatoes with the garlic butter mixture.

Broil or grill the potatoes for about 15 minutes until they are nicely golden. Be careful not to burn them.

Once done sprinkle the potatoes with some extra parmesan cheese and fresh chopped parsley if you want.
If you have any questions, feedback or comments on this recipe, please leave a comment below. Please also rate this recipe by double clicking on the stars below. If you did make this recipe, tag @apronandwhisk and hashtag #apronandwhisk, as I'm curious to see what you create!
Don't forget to subscribe to the mailing list down below so to receive the recipe updates straight to your mailbox!