Jump to Recipe
This spinach and ricotta galette is an easy weeknight light recipe perfect for all the family! A rich buttery flaky dough holds inside a creamy earthy filling made from fresh spinach and ricotta.
At the moment for us it's lent, which means that we as a family reduce our meat intake. This galette is a perfect dinner for us. Easy to make but it's so comforting and filling. The spinach and ricotta filling is one of my personal favourites. It's actually been a favourite since my childhood. With its mild creamy flavour the ricotta pairs perfectly with the slightly bitter cooked spinach. I like to also add a bit of chili flakes to give it that added punch.
Flaky dough
For this galette, I opted to go with a flaky pie dough as I adore how crumbly this type of dough gets, and personally I just love picking up the fallen crumbs from the plate. Besides, this dough is so easy to make that it was a no brainer. 
To get a successful flaky dough the secret is to keep everything really cold and to work as fast as you can. We don't want the butter to melt while we're forming and shaping the dough. If this happens, we will loose all the flakiness of the dough. Therefore, while making this dough make sure to use your hands the least as possible and to work on a cold surface, such as your kitchen countertop. Another important tip: Please leave the dough to rest for at least an hour before working with it! This definitely makes a huge difference on the outcome of your baked goods. 
This flaky dough is also perfect for pies, especially hand pies. Such as these Leek, Mushroom and Feta Hand Pies
How to make the galette
The beauty of the galette is that you don't have to be super precise, as the more rustic it looks, the better. Making a galette is extremely easy. Simply roll the dough into a large circle, fill the centre with a filling. Spread the filling in an even layer whilst leaving an empty border around. The border should be of about 5cm. Once ready, fold the dough over the filling and twist it on itself. Do this all round the galette to close it all around.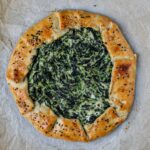 Print Recipe
Spinach and Ricotta Galette
This spinach and ricotta galette is an easy weeknight light recipe perfect for all the family! A rich buttery flaky dough holds inside a creamy earthy filling made from fresh spinach and ricotta.
Ingredients
Galette Dough
175

g

plain flour

125

g

cold butter cubed

1/2

tsp

salt

40

ml

cold water
Spinach and Ricotta Filling
250

g

ricotta

200

g

fresh spinach

1

egg

3

garlic cloves

minced

1

small brown onion

minced

1

tsp

chili flakes

salt and pepper

to taste

Egg wash – 1 egg yolk + water
Optional
nigella seeds, sesame seeds, poppy seeds, chia seeds, flax seeds, etc.
Instructions
Galette Dough
In a large bowl mix together the flour and salt.

Add the cubed cold butter and work into the flour. You can either use a pastry cutter or work with your hands. If you're using your hands, you have to work fast so as not to melt the butter. Rub in all the butter in the flour until you have a coarse mixture with small pebbles of butter. This process can be also done in a food processor.

Slowly start adding a tablespoon at a time of cold water, while forming a smooth dough. Your dough might require less or more water.

Once the dough is ready, wrap into some cling film and store in the fridge for at least an hour or two.
Filling
While the dough is resting in the fridge, prepare your filling.

In a large pan heat the olive oil and add the diced onion. Let it cook for a few minutes until it starts getting translucent. Add the fresh spinach* and the chili flakes, let it wilt and cook until most of the excess water has vapoured. Season with salt and pepper to taste.

Let the mixture cool completely and drain from any excess juices.

In a bowl mix together the ricotta, egg, and the spinach mixture. Season everything with salt and pepper to taste.
Assembly
Preheat the oven to 200°C or 400°F. Line a baking tray with parchment paper. Set aside.

On a floured surface open the dough into a large circle of about 5mm thickness. 

Place the mixture in the middle of the dough. Spread it into an even layer and leave a 5cm border all round. Fold the edges to roughly cover some of the filling.

Brush the edges with the egg wash and optionally sprinkle some sesame seeds.

Bake for about 40 minutes or until the edges have a nice golden brown colour.

Let it cool slightly before serving. Enjoy!
Notes
 *If using frozen spinach it's important to let it thaw before adding to the mixture and drain from any excess water already in the spinach. 
If you have any questions, feedback or comments on this recipe, please leave a comment below. Please also rate this recipe by double clicking on the stars below. If you did make this recipe, tag @apronandwhisk and hashtag #apronandwhisk, as I'm curious to see what you create!
Don't forget to subscribe to the mailing list down below so to receive the recipe updates straight to your mailbox!