Jump to Recipe
Soft inside and sticky on the outside these sticky cinnamon morning buns are an ideal breakfast treat to be enjoyed slightly warm on their own or drizzled with some cream cheese frosting!
I have been obsessed with anything 'cinnamony' for a while, and, of course, cinnamon buns are a top favourite on my list! However, lately, thanks to some of my Nordic colleagues, I have discovered these sticky cinnamon morning buns, which have definitely won the top spot! I'm not sure if it is the braid but these buns are so soft on the inside. It's like having multiple layers of dough separated with this gooey cinnamon sugar paste…love!
Dough Preparation
The dough for these buns is quite straightforward to make. All you need is: milk, flour, butter, an egg, sugar and yeast. Basically, all pantry ingredients! Then, just add all the ingredients to a mixer with a dough hook and let it knead for about 20 minutes. Ideally, this is done with a mixer. However, you can easily do it by hand but you have to work harder. The dough after rising will be extremely soft, but it can be worked with ease.
Cinnamon sugar paste
Let's talk about the famous cinnamon filling which will make these buns so sticky and gooey delicious. When making cinnamon buns or any other pastry with a cinnamon filling, how many of you first spread the butter and then sprinkle the cinnamon sugar mixture on top? I know, I used to do that but not anymore! Since discovering the technique of mixing these three ingredients into a paste prior to spreading them on the dough, my life has changed! I find it that by making this paste beforehand, I spread the mixture equally throughout the whole batch more easier. Also, it's so easier to whip all of them together and just spread them on the dough!
Serving
There are several ways how you can enjoy these yummy morning buns. I like these sticky cinnamon morning buns slightly warmed up with nothing on! However, if you fancy something more sweeter you can either drizzle a glaze or some cream cheese frosting on top! I've also seen my colleagues sprinkling some icing sugar on top. Another option how to serve them, and I'm actually quite guilty of indulging in it, is by serving these cinnamon buns slightly warm with a scoop of ice cream on top. Oh my! When I'm craving something really sweet, this is what I want!
Storing
Whenever I make these buns, I do a double batch and freeze most of them. They freeze so nicely and are so easy to just eat when you feel like it, by slightly warming them up! They also can be stored in the fridge for about 5 days, but good luck resisting them every time you open the fridge.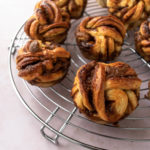 Print Recipe
Sticky Cinnamon Morning Buns
Soft inside and sticky on the outside these cinnamon buns are an ideal breakfast treat to be enjoyed slightly warm on their own or drizzled with some cream cheese frosting!
Ingredients
For the Dough:
370

g

bread flour

75

g

butter

room temperature

1

medium egg

+1 egg for egg wash

5

g

salt

7

g

active dry yeast or 13g fresh yeast

25

g

caster sugar

150

ml

full fat milk

lukewarm
For the Cinnamon Filling
75

g

butter

room temperature

125

g

brown sugar

1

tsp

cinnamon
Instructions
If using active dry yeast, in a small bowl mix the sugar and yeast in the lukewarm milk and let the yeast activate for about 15 minutes until foamy. If using fresh yeast, crumble the yeast in the flour before starting mixing the dough.

To a mixer with a dough hook, add all the dough ingredients. Mix on a low speed for about 5 minutes, then increase the speed to medium and mix for a further 12 minutes until the dough comes away from the bowl. If you are kneading by hand, knead until you get a soft and smooth dough, after about 15 minutes of kneading.

Form the dough into a ball and let it rest in a warm place covered for an hour until it doubles in size.

For the filling, mix the butter, cinnamon and brown sugar together until a paste is formed, and set aside.

On a floured work surface roll the dough into a rectangle, roughly 40 x 30cm.

Spread the cinnamon sugar paste over the dough.

Fold the dough lengthways, by closing the bottom half of the dough first, and then fold the other half on top. Cut widthways into 12 strips about 3 cm each. Cut each strip lengthways, not all through, into three.

Braid each strip and roll on itself. Place in a muffin tray or silicone muffin cups. Don't worry if it is messy, that is how it should be.

Cover the muffin tray loosely and let sit for another 30 minutes.

In the meantime, preheat the oven to 200°C.

Brush the buns with the egg wash and bake them for about 20 minutes, until golden. 

Before transferring the buns to a cooling rack, let rest for about 5 minutes on the baking tray.

Store rolls in an airtight container. These sticky cinnamon buns can be enjoyed at room temperature or slightly warmed up before serving.
If you have any questions, feedback or comments on this recipe, please leave a comment below. If you did make this recipe, tag @apronandwhisk and hashtag #apronandwhisk, as I'm curious to see what you create!
Don't forget to subscribe to the mailing list down below so to received the recipe updates straight to your mailbox!