Jump to Recipe

Żebbuġ mimli are large green stuffed olives with a tuna paste mixture! These salty olives are the perfect nibble to enjoy with a glass of wine.
In Malta, from a small private get together to a wedding to any celebration or event, a bowl of żebbuġ mimli is almost always there. These stuffed olives are the perfect appetizer to nibble on whilst drinking your favourite drink. Most commonly, they are served with a side of galletti, bigilla, maltese bread, sundried tomatoes, maltese ġbejna cheese, arjoli and white beans. Granted success! Stuffed olives can be found for sale from all around the island, all year round. However, they aren't that difficult to make at home. All that is needed is some patience to stuff every olive.
I am a big fan of these stuffed olives! When I was young, I could say I was slightly picky with food but not when these olives where present. I could eat a whole bowl on my own! They are seriously addictive.
What type of olives?
Traditionally, large green pitted olives are used. These olives make life easier when stuffing them and they are also able to hold a generous amount of stuffing. However, you can also stuff smaller sized ones. I wouldn't recommend using black olives as they might not be as sturdy to be stuffed as the green ones. In addition, the green olives' tangier aroma perfectly balances with the creamy slightly spicy tuna mixture.
What's the stuffing?
These olives are stuffed with a creamy tuna slightly spicy mixture. A blend is made with tuna, bread, anchovies, capers, garlic, mint, parsley and olive oil. This mixture can also be served as a dip. From me, the tricky part is filling the olives. First of all, make sure you get large green olives so to make your life easier. You can either fill the olives with the end of a tea spoon and gently press the filling in. Or else, you can use a piping bag or a small plastic bag with the tip open so that you can squeeze the mix in the olives.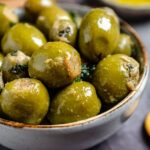 Print Recipe
Żebbuġ Mimli – Stuffed Maltese Olives
Żebbuġ mimli are large green stuffed olives with a tuna paste mixture! These salty olives are the perfect nibble to enjoy with a glass of wine.
Ingredients
800

g

olives

100

g

tuna

1 can

1

slice

bread

without crust

2

anchovy fillets

1

tsp

capers

4

garlic cloves

1/2

tsp

chili flakes

1/2

tsp

hot sauce

1

tsp

cumin

1/2

tsp

paprika

1/2

tsp

black pepper

1

tbsp

mint

chopped

1

tbsp

parsley

chopped

3

tbsp

olive oil
Instructions
In a blender, place the bread and pulse until it's all crumbs.

Add all the remaining ingredients except the olive oil and blend together. Gently stream in the olive oil and continue to blend until you get a smooth paste. At this stage, you can taste the mixture and see if any additional salt is needed. Be careful, not to over salt.

Fill a piping bag with the mixture. Take each olive and stuff the hollowed centre. Do not worry if the stuffing oozes out slightly.

Place the olives in a bowl, drizzle with olive oil and sprinkle some extra parsley on top. Mix well. Place in the fridge prior serving. Ideally, let the olives sit and marinate overnight before serving so that their flavour is more enhanced.
If you have any questions, feedback or comments on this recipe, please leave a comment below. Please also rate this recipe by double clicking on the stars below. If you did make this recipe, tag @apronandwhisk and hashtag #apronandwhisk, as I'm curious to see what you create!
Don't forget to subscribe to the mailing list down below so to receive the recipe updates straight to your mailbox!