Jump to Recipe
A perfect fall treat! These apple cider crullers are fried soft and flavourful choux pastry dipped in a light apple cider glaze for that extra taste.
In the past year, I have been diving deep into food instagram and discovering new foods from all over. One type of food which intrigued me and I had to make experiment with was the crullers. What are crullers? Easily put, crullers are another variety of doughnuts. However, unlike traditional doughnuts, crullers are made from a choux pastry which gets fried. Choux pastry in traditional French cuisine is commonly used for baked goods such as eclairs, profiteroles, religieuse, St. Honoré and many others. Yet, in the crullers the choux pastry gets fried. Both types of cooking produces a great number of bubbles in the dough as it's filled with air, which makes them really light. The main difference is that fried choux pastry has a softer crust and is a bit lighter, in my opinion.
As with my other experiments in the kitchen, I didn't want this to be just your normal flavour, so instead I opted for an apple cider flavour. After all, it's still the season of apples! During the past months, I've been making American style apple cider every week lately, and been enjoying a warm mug every day! So I decided to try cooking with it as well, and now I'm hooked! The sweet and spiced apple cider taste really makes these crullers such a warm and cosy treat, which is perfect for these cold days we are having lately!
Making the Apple Cider
If you can't find the apple cider from your local store, you can easily make a homemade version. All you need are some apples, an orange, sugar, water and some spices. Let them slow cook for a couple of hours and once done strain completely. You can either serve the drink immediately warm or else store it for later in the fridge and heat up a serving each time as you go.
Crullers
The method for the crullers is a really fast one, so I strongly suggest that you have all the ingredients handy and ready to use. To make the dough it's quite a fast pace method, as the base of the dough starts on the stove and you have to be careful not to burn it. After this first part is done, you can have to beat well each egg and make sure that enough air is incorporated in your choux pastry dough. Once done, simply pipe the dough in circles on a couple of cut parchment papers and fry them up. Once slightly cooled, glaze them and enjoy!
Ideally these crullers are enjoyed immediately after cooked as they tend to get slightly soggy if they stay too long after cooking. However, you can easily freeze any piped dough on the parchment paper and just fry up when you need.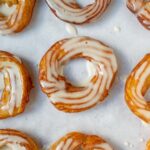 Print Recipe
Apple Cider Crullers
A perfect fall treat! These apple cider crullers are fried soft and flavourful choux pastry dipped in a light apple cider glaze for that extra taste.
Ingredients
Crullers
130

g

plain flour

1 cup

125

ml

water

1/2 cup

125

ml

apple cider

1/2 cup

120

g

unsalted butter

1/2 cup

17

g

sugar

1 tbsp

4

eggs

room temperature

1/2

tsp

salt

1/4

tsp

nutmeg

vegetable oil
Apple Cider Glaze
100

g

icing sugar

1/2 cup

45

ml

apple cider

3 tbsp
Instructions
Cut several parchment papers into squares about 8x8cm and set aside.

In a medium sized saucepan, place the butter, sugar, water, apple cider and salt and bring to a boil over medium heat. Once it starts to boil remove from the heat. Add the flour all at once, and mix well with a wooden spoon until the flour is combined in the wet mixture.

Return the saucepan back on the stove, on medium heat and let it cook while constantly stirring for 2 minutes. Do not move away from this process!

Transfer the cooked dough to a large bowl or to your mixer, let it cool for a couple of minutes. Once slightly cooled, start adding the eggs one at a time, making sure that each egg is fully incorporated in the dough before adding another. If the dough starts to divide after adding the egg, no worries, it's normal, just keep beating.

Fill a large pot with vegetable oil, pour enough oil so that the crullers have enough space to cook in, about 7 cm. Heat the oil to about 170°C; you want the oil to be hot enough so that you reduce the cooking time avoiding that they get soggy, but at the same time you don't want the oil too hot that it burns the outside and leaves the inside raw.

For the glaze, in a small bowl, whisk together the icing sugar with the apple cider. Add an extra tbsp until you've achieved your desired consistency.

Place the dough in a piping bag, fitted with an open star nozzle. Pipe out circles on the previously cut parchment papers. Drop the cruller with the parchment paper facing up in the oil. Once it's starting to cook remove the parchment paper and let the cruller continue to cook for about 2 minutes on each side, until they are nicely golden in colour.

Drain the crullers from excess oil on some paper towels, dip them into the glaze and place them on a cooling rack.

Serve immediately and enjoy!
Notes
How to Make Apple Cider at home:
In a large pot, quarter 8 apples (you can have a variety of apples), quarter an orange, add 8 cups of water, and 1/2 cup of brown sugar. Add the spices you want, my favourites are a 1/4 cup of cloves, 1 nutmeg and 3 cinnamon sticks. Bring to a boil and let it simmer for an hour. Mash everything up and let if simmer for another hour. Once done, using a cheese cloth or a fine sieve, filter the liquid from the solids. Serve immediately or store for later. 
If you have any questions, feedback or comments on this recipe, please leave a comment below. Please also rate this recipe by double clicking on the stars below. If you did make this recipe, tag @apronandwhisk and hashtag #apronandwhisk, as I'm curious to see what you create!
Don't forget to subscribe to the mailing list down below so to receive the recipe updates straight to your mailbox!