Jump to Recipe
Cannoncini are an Italian dessert made from crispy flaky butter puff pastry filled with a luscious velvety pastry cream.
Traditionally, you can find these cannoncini in all bakeries and pastry shops around Italy. Ideally, to be enjoyed after Sunday's lunch or festivites. Even though, I'm not Italian, I remember that my family in Malta used to get these pastries frequently on Sundays and we used to enjoy them post lunch with a cup of tea or coffee! I love them! But I might be biased as I adore everything that has vanilla pastry cream. One of my weaknesses!
This cannoncini recipe consists of perfect small tubes of crispy puff pastry which are then filled with a luscious cream. The most common is the vanilla pastry cream, however you can find other varieties made with chocolate cream, pistachio, lemon and so on. They are all sinfully delicious!
They are also super easy to make! All you need is storebought buttery puff pastry and pastry cream. You can also make the puff pastry yourself but it's definitely quicker to use storebought pastry.
Shaping
Cannoncini are either shaped as a tube or as a horn/cone. You can either use readymade moulds, or you can also make the mould with foil or baking paper. I have used cannoli stainless steel tube moulds.
Pastry Cream
Making this vanilla pastry cream is relatively easy! However, you need to be careful so as an not to burn it. You will need to stay close and constantly stir the pot until it's nice and thick. An important thing, use good vanilla! It will change everything. I prefer to use a whole vanilla bean pod. Apart from giving that delicate fragrant vanilla taste, I like the little black dots of vanilla left swirling in the pastry cream.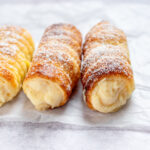 Print Recipe
Cannoncini – Puff Pastry Cannoli with Pastry Cream
Cannoncini are an Italian dessert made from crispy flaky butter puff pastry filled with a luscious velvety pastry cream.
Ingredients
Pastry
1 

sheet puff pastry

10

g

sugar

1 

egg 

for egg wash

icing sugar
Vanilla Pastry Cream
500

ml

full fat milk

2 cups

30

g

cornstarch

50

g

sugar

4

egg yolks

2

tsp

vanilla bean paste

or seeds from one vanilla pod

1/2

tsp

salt
Instructions
For the Vanilla Pastry Cream
In a small saucepan with the heat turned off, combine together all the pastry cream ingredients. Cook your cream filling on medium heat, stirring continuously until it thickens. It is important to not move away from the cream while cooking as once it thickens you have to remove it from the stove immediately or it will burn. Place the cream into a clean bowl and cover with plastic wrap, making sure that the plastic wrap is touching the cream. Leave it to cool down in the fridge for at least an hour.
For the Cannoli
Preheat the oven to 200°C or 400°F. Line a baking tray with parchment paper. Set aside.

Open the puff pastry and sprinkle the sugar over. Cut 12 equal stripes lengthwise.

Spray with cooking oil the cannoli moulds or foil. Wrap around each mould, a strip of dough, making sure that every time you turn a piece of dough overlaps itself.

Place the cannoli on the baking tray and brush with egg wash. Bake for around 15-20 minutes.

Once they have a nice golden brown colour, take them out and let them cool slightly.

Remove the mould and let them cool completely.
Assembly
Fill a piping bag with the pastry cream and fill each cannoli with the cream. Sprinkle some icing sugar on top and serve.
If you have any questions, feedback or comments on this recipe, please leave a comment below. Please also rate this recipe by double clicking on the stars below. If you did make this recipe, tag @apronandwhisk and hashtag #apronandwhisk, as I'm curious to see what you create!
Don't forget to subscribe to the mailing list down below so to receive the recipe updates straight to your mailbox!