Jump to Recipe
These soft savoury stuffed cheeseburger doughnuts are filled with a warm and juicy filling. A modern appetizer to delight everyone!
While on our honeymoon my husband and I tried to enjoy as much food as we could. In Dubai, we had short rib doughnuts, that were amazing. They were literally to die for! The dough was extremely soft and flavourful with a hearty filling. Once we got back home I knew I needed to make something similar. However I changed the filling to an easier one.
Cheeseburger filling
Even though the short rib doughnuts that inspired me to create these savoury doughnuts were incredible, I wanted to create something slightly easier and quicker. As short ribs take a good amount of time to cook I opted for a cheeseburger filling which can be done in just a few minutes.
For this reason, I took the basic ingredients found in a cheeseburger and combined them together. I used minced meat, cheese, pickles, onions, ketchup and mustard. Of course, if you don't fancy any of these ingredients it can be omitted or else you can add something extra. However, I suggest to avoid lettuce as this would get all soggy and you don't want that in your doughnuts! The filling is cooked beforehand as the doughnuts only take a couple of minutes to fry and we don't want an undercooked filling.
Savoury doughnuts
The dough for these doughnuts is the same one that I usually use. However, for this one I have reduced the amount of sugar so that it doesn't become too sweet. For the dough it's important to knead it well until you achieve a windowpane and to let it rest as much as you can so that they get light and fluffy.
Windowpane Test
To carry out the windowpane test, take a small amount of dough and hold it with both hands (using the thumbs and first two fingers). Gently, spread open your hands so to stretch the dough. Keep stretching gently until the centre part of the dough is translucent. If the dough doesn't break, that means that the gluten has developed and you can prepare your dough for the rising part. However, if the dough breaks easily when you open your fingers, the gluten hasn't yet fully developed. Therefore, transfer the dough ball back to the main dough and let it knead for more minutes. Try again until the dough passes the windowpane test.
How to serve
These cheeseburger doughnuts need to be served hot! Apart from this, the doughnuts are best fresh when the filling is all warm and juicy with melted cheese. In addition, I like to top up my doughnuts once fried with a mixture of sesame seeds and spices on top to mimic a cheeseburger bun.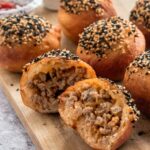 Print Recipe
Cheeseburger Doughnuts
These soft savoury stuffed cheeseburger doughnuts are filled with a warm and juicy filling. A modern appetizer to delight everyone!
Ingredients
Doughnut Dough
500

g

strong flour

45

g

sugar

6

g

salt

250

ml

milk

lukewarm

100

g

butter

room temperature, cubed

2

eggs

11

g

active dry yeast
Cheeseburger Filling
500

g

minced meat

beef or pork

80

g

shredded cheddar cheese

1

small white onion

diced

1

tsp

garlic powder

1

tsp

cumin

2

tbsp

pickles

finely chopped

2

tbsp

ketchup

1

tbsp

mustard

1/2

tsp

salt

1/2

tsp

pepper
Topping
sesame seeds, nigella seeds, everything but the bagel seasoning, etc.
Instructions
For the doughnuts
In a mixer bowl activate the yeast by adding the yeast, milk and sugar. Let the mixture foam for about 15 minutes.

In a separate bowl add together the flour and salt. Set aside

Once the yeast is activated, add the dry ingredients together with the eggs to the mixer bowl. With a hook attachment knead the dough for about 3 minutes, until a soft dough starts to take shape.

Then gently add the diced butter one piece at a time until all the butter is incorporated. Let the dough knead for about 10 minutes.

Cover the dough and let it rest for two hours in the warmest place in your kitchen until it doubles in size.
For the filling
In a large pan start by frying gently the diced white onion in the olive oil. Add the minced meat, season with cumin and garlic powder and cook.

Once the minced meat is cooked, remove from the heat and let it cool. Add all the remaining ingredients and mix well.
Assembly and Frying
Once the dough has doubled in size, transfer to a floured work surface. Cut into 20 equal portions of around 50g each.

Flatten each piece and stuff with the cheeseburger filling. Shape into a ball while making sure that all sides are sealed so that the mixture doesn't ooze out.

Fill a large pot with vegetable oil. Pour enough oil so that the doughnuts have enough space to cook in. Heat the oil to about 170°C/340°F.

Cook the doughnuts in batches for about 2 minutes on each side.

Transfer the cooked doughnuts to a plate lined with paper towels so that it will dry out any excess oil. While still hot sprinkle some seasoning on top.
If you have any questions, feedback or comments on this recipe, please leave a comment below. Please also rate this recipe by double clicking on the stars below. If you did make this recipe, tag @apronandwhisk and hashtag #apronandwhisk, as I'm curious to see what you create!
Don't forget to subscribe to the mailing list down below so to receive the recipe updates straight to your mailbox!