Jump to Recipe
A perfect tea time snack! This traditional Maltese style Apple Pie is made from a crumbly biscuit crust, filled with apples and raisins, finished with a lot of icing sugar on top!
If someone had to ask me for a core memory from my childhood, one of them would be about this apple pie! When I was about 8, my parents took hold of a local bar/pub from the village band club on lease for a year. Every day my parents used to open it for breakfast until late at night. I used to go help on the weekends and during summer. One of my favourite things was when the baker came with the daily order of bread and pastries. I used to get so excited when I would see all the fresh apple pies! I used to beg my mum to help sort them out in the display and then after a few seconds admiring them, I used to beg for one!
Either her or my father used to make me a tea with milk and I used to sit down at the side on the bar stools with my apple pie and tea. It was also what most of the men where having for their morning breakfast. The pie used to be very sweet and still slightly warm. Perfection! It holds such a happy spot that it makes me smile everytime I remember this.
The beauty of this apple pie is that it's made from a biscuit type of crust. Not the usual pie crust. They are also small single serving sized. The filling inside is made from apples and cinnamon, with the traditional addition of raisins. The strange thing for me is that when I was younger I never liked dried fruits but I used to eat raisins in this apple pie as if they were the most delicious thing. In fact they are! The apples and raisins go so well together.
How to make this Apple pie?
Making this apple pie is extremely hassle free! First you need to prepare the dough, as it needs to rest and chill before assembling the pies. The crust is made from a crumbly biscuit dough with loads of delicious butter.
Start by crumbling the cold butter and the flour together. Then add the lemon zest, sugar, vanilla extract and egg yolks. Knead the dough until it's all combined and smooth. Cover and place in the fridge for at least 30 minutes.
The apple filling is made from cooking down apples in some sugar, water, cinnamon, mix spice, butter and cornstarch. Once the apples have softened slightly remove from the heat and mix in the raisins. Let cool before filling the pies.
Best Apples to use
My favourite apples to use in this apple pie are granny smith, as they keep a little bite and don't crumble into mush. However, you can use other apples that are good for cooking and baking such as golden delicious, gala, pink lady, jonagold, honey crisp, bramley, etc. You can also use a mix of different apples so that you have different textures.
Can I make this as a large apple pie?
Although, these might be more popular as a single serving pie you can most definitely make a large pie! In fact, this recipe should make one large pie! Please take care when baking a larger pie as the cooking time will vary and it will need more time to cook through.
How to bake these apple pies in an air fryer?
Baking in an air fryer is so easy! Especially with such a pie. All you need to do is to bake the pies for about 15 minutes at 180°C. This timing worked perfectly for my Cosori air fryer, I recommend to test your first batch and keep an extra eye on them. As your air fryer might bake them in less or more time.
How to serve these pies?
Before serving these pies, they need a generous dusting of icing sugar. They literally should be all white! I love having mine slightly warm with a hot cup of coffee or tea. You can also serve these pies with a scoop of ice cream on top. Or else, you can enjoy them cold as a to go snack.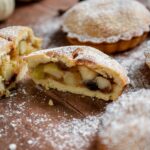 Print Recipe
Traditional Maltese Apple Pies
A perfect tea time snack! This traditional Maltese style Apple Pie is made from a crumbly biscuit crust, filled with apples and raisins, finished with a lot of icing sugar on top!
Ingredients
Pie dough
500

g

plain flour

200

g

icing sugar

+ extra for dusting

250

g

butter

cubed

2

eggs

zest of a lemon

1

tsp

vanilla essence
Apple Filling
5

granny smith apples

peeled and chopped

40

g

butter

40

g

sugar

1

tbsp

cornstarch

or flour

100

ml

water

30

g

raisins

2

tsp

ground cinnamon

1/2

tsp

mixed spice
Instructions
Pie Dough
In a large bowl mix the flour and the cubed butter to a crumbly mixture. Work with your fingertips so that you don't melt the butter.

Add the icing sugar, lemon peel and vanilla. Combine well.

Form a well with the ingredients, put the eggs in the middle and start mixing. Knead the dough briefly until all the ingredients are incorporated and a smooth dough is formed.

Wrap in cling film and let it rest in the fridge for at least 30 minutes.
Apple Filling
In a saucepan over medium heat, mix together the chopped apples, sugar, butter, cinnamon and mixed spice. Mix the cornstarch and water together in a small bowl and set aside.

As soon as the apples start to soften, it might take 3 minutes, add the cornstarch mixture.

Let the mixture cook for another 3 minutes. Take it off heat and mix in the raisins. Let it cool slightly before using in the pies.
Assembly
Preheat the oven to 180°C or 350°F. Spray the tartlet tins with some baking spray and set aside.

Roll out the dough on a floured surface until it's about 0.5 cm thick. Cut the dough and fill the tartlets tins. Fill each tin with the apple mixture.

Cover the pies with another layer of dough and press the edges to seal both doughs together. Cut some slits at the top of the dough.

If baking: Bake for about 20-30 minutes. (If air frying – at 180°C or 350°F for 15 minutes)

Let cool slightly before taking out the moulds. Dust plenty of icing sugar before serving.
If you have any questions, feedback or comments on this recipe, please leave a comment below. Please also rate this recipe by double clicking on the stars below. If you did make this recipe, tag @apronandwhisk and hashtag #apronandwhisk, as I'm curious to see what you create!
Don't forget to subscribe to the mailing list down below so to receive the recipe updates straight to your mailbox!