Jump to Recipe
This juicy crispy fried rabbit is a delicious way to enjoy rabbit! A true comfort meal! 
For us Maltese, rabbit is a big part of our cuisine, in fact one might say it's our national dish. We tend to eat it fried with garlic and wine, in a stew and with spaghetti or else baked in the oven. Of course, there are plenty other ways to have this delicious meat. In this recipe the rabbit is marinated and coated with a generous layer of breading. Then, it gets deep fried until it is completely cooked. You will end up with juicy tender meat and an incredible crunchy crispy crust. 
How to marinate the rabbit?
Before cooking the rabbit, it's best to let it marinate, this will enhance the flavours and also serve as an agent for the breading, so to get the crispy crunchy crust when fried. To marinate the rabbit, mix in buttermilk, garlic powder, onion powder, paprika, chili flakes, salt and pepper. Let the rabbit marinate in the fridge for about 4-12 hours. Do not leave for more as this will change the texture of the cooked rabbit.
How to make this crispy fried rabbit?
The best tip I can give for a successful crispy fried rabbit is to cut up the rabbit pieces in the same size. I have used 4 whole legs of the rabbit for this recipe. However, you can use the whole rabbit broken down in similar sizes. This will make cooking even as you will be cooking same sized pieces. 
Start by marinating the rabbit. After marinating, prepare the breading in a large bowl. In addition, prepare a baking sheet with a cooling rack on top. This will be used to place the breaded rabbit on top and to let it rest before frying, and for the drippings of excess breading. Take a piece of marinated rabbit at a time, let it gently drip the extra marinade and lower it in the bowl with the breading. Cover each piece completely. Place on top of the cooling rack and let rest for about 15 minutes. Repeat until all the pieces are all breaded.
To fry these rabbit pieces, I heated vegetable oil in a cast iron. However, you can also use a sauce pan. I like to fry the rabbit in small batches and not fully submerged in oil, so that I can control more the internal cooking of the rabbit. Additionally, if you want to be extra sure of the doneness of the rabbit, check for the internal temperature which should be 70°C. You can also finish cooking the rabbit in the oven so to make sure that the rabbit is fully cooked.
FAQs
How to serve this fried rabbit?
I like to serve this crispy fried rabbit with some buttery corn, a generous amount of honey mustard and mashed potatoes! Other options you can do is to serve some sautéed green leaf vegetables, a cream based sauce or even a fresh slaw salad. You can serve it with anything you would serve crispy fried chicken.
Can I use this method for other meats?
If you are not a fan of rabbit or aren't that keen on it. Do not worry, you can use this recipe with chicken! Make the best crispy southern fried chicken the same way as rabbit. You can also change up the spices used here to create the best flavours that you desire.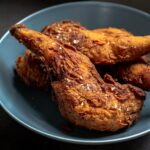 Print Recipe
Crispy Fried Rabbit
Ingredients
500

g

rabbit

vegetable oil

for frying
For the marinade
300

ml

buttermilk

1

tsp

salt

1

tsp

paprika

1

tsp

garlic powder

1/2

tsp

onion powder

1/2

tsp

chili flakes

1/2

tsp

black pepper
For the breading
250

g

plain flour

1

tbsp

paprika

1/2

tbsp

garlic powder

1

tsp

salt

1

tsp

baking powder

1

tsp

oregano

1

tsp

thyme

1/2

tsp

onion powder

1/2

tsp

chili flakes

1/2

tsp

black pepper
Instructions
To marinate the rabbit
Start by preparing the rabbit. Cut the rabbit in equal sizes.

In an airtight container mix together all the ingredients, making sure that the spices are well mixed in. Add the rabbit piece and shake so that all the pieces are evenly covered in the marinade. Store in the fridge for about 4 to 12 hours.
To prepare the breading
Whisk together all the ingredients in a large bowl. Set aside until ready to use.

Once you are ready to fry the rabbit, start by preparing a baking sheet with a cooling rack on top. Take out a piece at a time from the marinade, let it drip slightly so any excess marinade falls down. However, do not remove the marinade from the rabbit pieces. Place the marinated piece in the breading and coat generously. Set the breaded pieces on the prepared rack. Let them rest for about 15 minutes.
Frying the pieces
Fill a cast iron half way through with vegetable oil. Or fill a sauce pan with enough oil so to cook the rabbit in. Heat the oil to about 170°C. Prepare a baking sheet with paper towels. Set aside.

Fry gently each piece of rabbit. I like to cook not more than 2 at a time and keep both pieces of the same size for even cooking. Cook each piece for about 10 minutes or until a thermometer shows that the internal temperature of the thickest part of the rabbit reaches 70°C. Place on the prepared baking sheet with paper towels and sprinkle generously with flaky salt. Repeat until all the pieces are cooked.

Serve the crispy fried rabbit hot with some corn, mashed potatoes and honey mustard sauce! Enjoy!
If you have any questions, feedback or comments on this recipe, please leave a comment below. Please also rate this recipe by double clicking on the stars below. If you did make this recipe, tag @apronandwhisk and hashtag #apronandwhisk, as I'm curious to see what you create!
Don't forget to subscribe to the mailing list down below so to receive the recipe updates straight to your mailbox!