Jump to Recipe
An easy Maltese traditional dish! The fażola bit-tewm u t-tursin is a simple bean salad with garlic and parsley, perfect as an appetizer or as a side dish! A must at every Maltese BBQ!
Fażola bit-Tewm u t-Tursin Ingrediens
Butter Beans – Traditionally, large white beans such as butter beans are used as they have a good bite, are firm yet still tender and can be easily picked up singularly with a toothpick. However, you can easily use any white bean of your liking, such as cannellini! You can used canned for a quick appetizer or cook them yourself from dried.
Parsley – an essential in this dish! Parlsey is one of the most used herbs on the Maltese islands, with it's peppery and earthy taste it gives this salad the perfect aromatic flavour.
Garlic – the more garlic the better! Use fresh garlic cloves to have a deep tangy flavour that is the iconic taste of this dish. Add how much garlic you like. You can leave it slightly big for a more pungent taste or mince it up for a more subtle touch.
Olive oil – adds to the richness of the flavour and makes all the ingredients stick to the beans.
Lemon – as this dish is made from simple ingredients, the acid from the lemon brings out the flavours even more! I like to use both the lemon juice and the zest for an added freshness. You can substitute the lemon with red wine vinegar. Both options work so well in this dish.
Salt and Pepper – add generously but also to taste. These two together will elevate this simple dish.
Spring Onions (Options) – add chopped spring onions for an added bite to the salad and for a sweet and pungent taste. However, this is optional and you can omit it.
How to make this Butter Bean Salad?
This recipe is maybe one of the easiest things you can make in the kitchen. Simply start by prepping and chopping the parsley and garlic. Afterwards, in a large bowl mix everything together until the beans are all covered and have a rich flavour. Season to taste, but I recommend that you are generous with your salt and pepper. Finish it off with some lemon zest for an added touch of freshness.
How to serve this bean salad?
In Malta, this bean salad dish is served as an appetizer in bars when you order drinks, as part of a Maltese platter with ġbejniet and bigilla, as an appetizer or as a side during a BBQ, or even included in the famous ftira biż-żejt! You can really serve it in so many ways. I also like to enjoy this salad with some fresh seasonal vegetables, grilled octopus and fresh crunchy Maltese bread!
FAQs
How to store the Fażola bit-Tewm u t-Tursin?
If you have any leftovers, store them in an airtight container in the fridge for not more than 3 days. Before serving, I also like to drizzle some olive oil to bring it back more to life.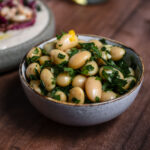 Print Recipe
Fażola bit-Tewm u t-Tursin – Traditional Maltese Butter Bean Salad with Garlic and Parsley
Ingredients
1

can butter beans

about 400g

4

garlic cloves

1

medium bunch of parsley

juice of a lemon

zest of half a lemon

3

tbsps

olive oil

salt and pepper
Instructions
In a large bowl add all the ingredients except the lemon zest. Mix well.

Taste the bean salad and check the seasoning and if it needs more lemon.

Finish the salad with freshly grated lemon zest. Serve cold or room temperature.
If you have any questions, feedback or comments on this recipe, please leave a comment below. Please also rate this recipe by double clicking on the stars below. If you did make this recipe, tag @apronandwhisk and hashtag #apronandwhisk, as I'm curious to see what you create!
Don't forget to subscribe to the mailing list down below so to receive the recipe updates straight to your mailbox!