Jump to Recipe
Lemon Curd Linzer cookies are the perfect spring treat! A tangy sour lemon curd sandwiched between two sweet pasta frolla cookies.
As Easter approaches I always plan several dessert recipes. It feels that it's the perfect time to enjoy some extra sweets. Might be because as during lent in Malta some people tend to renounce sugar and sweets. Apart from the classic figolli, kwareżimal, my kwareżimal cheesecake and kwareżimini, this year I made these linzer cookies stuffed with lemon curd.
This time of year for us is peak lemon season, so I had to use them! I personally am a big fan of the tart tangy taste that lemons leave in anything sweet. Also, this strong flavour goes well with the sweet pasta frolla dough. Such a delicious balance.
Lemon Curd
This lemon curd is the star in these lemon curd linzer cookies! It's incredibly easy to make with such a deep flavour, you'll want to enjoy it in spoonfuls straight from the jar. All you need is to mix together sugar, eggs, butter, lemon juice and zest together and let it thicken. The following are some tips and tricks before you start cooking the curd. I suggest to cook this lemon curd on a double boiler. Cooking it this way will give you more control over the consistency and prevents from burning. In addition, you'd make sure that the curd doesn't have a metallic taste. Unfortunately, if you cook acidic curds as this one directly in the pot, you risk that the curd gets a metallic taste which might not be the best. This can also happen if you use a stainless steel whisk, thus I recommend using a silicone one.
As the curd needs attention so that it doesn't curdle too much, I suggest that you stay close by to the stove and whisk the curd occasionally. This will make the curd creamy and luscious without any lumps. It also helps to cook the curd on medium heat.
Pasta Frolla
One of my favourite pastry doughs is pasta frolla. The classic Italian pasta frolla is versatile, easy to whip up and its ingredients are pantry staples. In addition, it's so easy to work with!
Here I have used Easter themed cutters, as I made them specifically for Easter. They came amazingly cute! However, you can use your favourite cutters.
More sandwich cookies:
Raspberry Jam Sandwich Biscuits
Shortbread with Chocolate Ganache sandwich Biscuits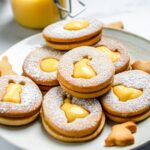 Print Recipe
Lemon Curd Linzer Cookies
Lemon Curd Linzer cookies are the perfect spring treat! A tangy sour lemon curd sandwiched between two sweet pasta frolla cookies.
Ingredients
Linzer Cookies
500

g

flour

00/plain

200

g

icing sugar

250

g

butter

cubed

2

egg

zest of 2 lemons
Lemon Curd
100

g

sugar

3

eggs

85

g

butter

room temperature

125

ml

lemon juice

zest of 2 lemons

pinch of salt
Instructions
Lemon Curd
In a glass or heatproof bowl, whisk together the eggs, sugar and salt.

Place the bowl over a pan of simmering water. Add the butter and continuously stir until all the butter is melted.

Keep whisking the mixture over the heat for around 10 minutes. Add the lemon juice and zest. Whisk for about 5 minutes more until it thickens.

Pour the curd into a glass jar and set aside in the fridge until ready to use.
Linzer Cookies
In a large bowl mix the flour and the cubed butter to a crumbly mixture. Work with your fingertips so that you don't melt the butter.

Add the icing sugar and the lemon peel and combine well.

Form a well with the ingredients, put the egg in the middle and start mixing. Knead the dough briefly until all the ingredients are incorporated and a smooth dough is formed.

Wrap in cling film and let it rest in the fridge for at least 30 minutes.

Meanwhile preheat the oven to 180°C or 350°F. Line a baking tray with parchment paper. Set aside.

Roll out the dough on a floured surface until it's about 0.5 cm thick. Cut the dough with a smaller cutter and cut out the centre of half of the biscuits.

Transfer to the baking tray, leaving some space between one another, and bake for about 20 minutes, until they turn slightly golden brown at the edges.

Leave to cool at room temperature on a cooling rack.

Once all the biscuits have cooled a little but are still a bit warm, dust the biscuits having the cut out centre, with icing sugar.

Add about a teaspoon of lemon curd to each of the full biscuit and place the cut out centre biscuit on top of the jam. Thus, sandwiching the curd between the two biscuits.
Notes
Do not over knead the dough as the biscuits will come out too fragile and they will crumble and break easily. 
Getting the cut-out perfectly in the centre might be a bit tricky if you don't have a specific cutter, therefore don't stress with it! They will still turn out beautiful and yummy.
If you have any questions, feedback or comments on this recipe, please leave a comment below. Please also rate this recipe by double clicking on the stars below. If you did make this recipe, tag @apronandwhisk and hashtag #apronandwhisk, as I'm curious to see what you create!
Don't forget to subscribe to the mailing list down below so to receive the recipe updates straight to your mailbox!