Jump to Recipe
These mini hasselback potatoes make an impressive side dish or even an addicting appetizer! Thinly sliced potatoes are baked at high heat which results in tender potatoes with a crispy exterior.
Potatoes tend to make or break a whole dish. In fact, I would say to never underestimate a good side dish. For me, whenever I'm making dinner, especially when I'm entertaining, I want to make sure that the side dish is just as good as the main. With these hasselback potatoes I'm always sure that these will be a hit with everyone. You only need a couple of ingredients to make these yummy flavourful potatoes.
Mini Hasselback Potatoes Ingredients
Potatoes: There are several types of potatoes that can be used to make these hasselback potatoes. My favourites for roasting are Nicola and Charlotte (in other words, waxy potatoes). Any size will work, I like to use mini ones for an appetizer, medium and large ones for a side dish or as a main filled with delicious toppings. I recommend to use similar sized potatoes for cooking time purposes.
Butter: I use melted butter mixed with loads of herbs and spices, before baking the potatoes. The butter gives a rich flavour to the potatoes. However, you can substitute it with olive oil.
Olive oil: Half way through the cooking, I like to drizzle some good olive oil over the roasting potatoes.
Garlic and onion powder: These are optional! However, in my opinion they add so much depth to these potatoes. For me, this is what makes them so addictive. You can either add both or only one!
Fresh rosemary: I like my hasselback potatoes with plenty of herbs. My ultimate favourite of these potatoes is rosemary, a full bodied flavoured herb yet not overpowering. Other herbs that will work well with these potatoes are fresh thyme, chopped sage, sprinkled oregano or even some dried mint!
How to make these hasselback potatoes
Even though, they might look intimidating these hasselback potatoes are easy to make! Their iconic shape is made by thinly slicing the potatoes whilst making sure that you do not cut through the potato. Mix the melted butter with the herbs, garlic powder, onion powder, salt and pepper. Brush the mixture over the potatoes generously. Bake the potatoes at high temperature, cut side down. Half way through, turn the potatoes over and brush with olive oil. Continue baking until the potatoes are all nice and crispy.
How to cut Hasselback potatoes
The following are some tips on how to make life easier while cutting these hasselback potatoes. Place two chopsticks or wooden spoons lengthwise on both sides of the potato. These will serve as a guide, in order for you not to cut through the potatoes. Slice the potatoes with a sharp knife. Be careful that at the ends of the potato you don't cut through, as the thickness here will diminish. With small potatoes you have to be a bit more careful as they tend to round around easily.
FAQs
Which are the best potatoes for hasselback?
The best kind of potatoes to use are Maris Piper, Desiree, King Edward, Nicola, Charlotte or Yukon Gold, as they work great for roasting. You can use any size of potatoes for hasselback. For an appetizer I would go for small baby ones, whereas when serving as a side dish I would go for medium big sized ones.
Can I make them dairy free?
Of course! Simply substitute the butter with olive oil and drizzle generously over the potatoes.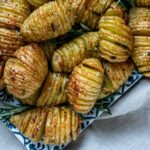 Print Recipe
Mini Hasselback potatoes
These mini hasselback potatoes make an impressive side dish or even an addicting appetizer! Thinly sliced potatoes are baked at high heat which results in tender potatoes with a crispy exterior.
Ingredients
800

g

mini potatoes

Nicola, Charlotte, Maris Piper King Edward

40

g

butter

melted

15

ml

olive oil

1

tablespoon

fresh rosemary

chopped

1

teaspoon

garlic powder

1/2

teaspoon

onion powder

salt & pepper
Instructions
Preheat the oven to 230°C or 450°F. 

Wash the potatoes throughly if leaving the skin on, or else peel them. Place each potato between two wooden spoons lengthwise to serve as a guide and slice thinly; the potato should remain in tact. Repeat with all the potatoes.

In a small saucepan, melt the butter and mix in the chopped rosemary, garlic powder, onion powder, salt and pepper.

Place the potatoes in a roasting dish. Brush each potato generously with the butter mixture. Turn the potatoes, with the cut side facing down.

Bake for about 20 minutes. Half way through, take out the potatoes from the oven, turn over and drizzle some olive oil. Transfer back to the oven and back for another 30 minutes, or until the centre is tender.*

Serve the potatoes warm with a generous sprinkle of flaky sea salt.
Notes
*Hasselback potatoes cooking time will vary depending on the size of the potatoes. Bake them until they are soft and tender in the middle. Mini potatoes will be ready in about 40/50 minutes. Larger potatoes will take about 1 hour or more. 
If you have any questions, feedback or comments on this recipe, please leave a comment below. Please also rate this recipe by double clicking on the stars below. If you did make this recipe, tag @apronandwhisk and hashtag #apronandwhisk, as I'm curious to see what you create!
Don't forget to subscribe to the mailing list down below so to received the recipe updates straight to your mailbox!