Jump to Recipe
Ottijiet are an 8 shaped biscuit infused with citrus and spices. Traditionally topped with sesame seeds, these biscuits are the ideal dunk biscuits!
Ottijiet are one of the foods that remind me most of home. They were a big part of my childhood. I remember clearly that since an early age I used to love these. My mother used to give me these biscuits with a nice cup of tea with milk, so that I could dunk them in. Nowadays, whenever I go back home I ask my mother in advance to get some extra packets from the baker.
If you are ever in Malta and want to try these type of biscuits, I suggest that you do not buy them at a supermarket but rather at a local bakery as these tend to have the freshest and best type of Ottijiet. Another interesting thing about these biscuits is their name: their name is derived from the italian word 'otto' (i.e. the number eight), with the suffix '- ijiet', used in Maltese to give the plural form.
What I really enjoy about these biscuits is their mix of spices and aromas, which perfectly sum up what I would describe as the "Maltese taste". The mix of the citrus from fresh oranges together with ground cloves and aniseed, creates a flavour that one cannot easily forget. Once you will try these, you will get what I am talking about, and your taste buds will thank you for it!
These biscuits can be either eaten on their own, since the mix of flavours together with the crunchiness of the dough with sesame, make up for a good treat; or else they can be enjoyed with a nice cup of hot tea with milk or coffee, as you please.
How to shape
As the name literally states, these biscuits have a figure of 8 shape. So, how do you get that shape? Easy! Simply roll a piece of dough into a long cylinder, once you get the desired length, join both ends together. Then twist it on itself and the 8 shape is formed. Press gently the middle where the dough overlaps so that it sticks together.
Other ways of making them
The recipe that I am sharing here is my favourite homemade version. There are different versions of them. Some tend not to have aniseed, cloves or vanilla, some might use olive oil instead of butter and some might omit either the orange and include lemon instead. I have chosen the one that is to my liking, the one I prefer to eat most, as it is rich, and the flavours come out nice.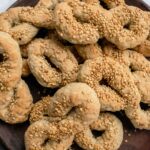 Print Recipe
Ottijiet – Maltese Biscuits
Ottijiet are an 8 shaped biscuit infused with citrus and spices. Traditionally topped with sesame seeds, these biscuits are the ideal dunk biscuits!
Ingredients
350

g

plain flour

100

g

sugar

2

teaspoons

baking powder

100

g

butter

cold cubed

1

egg

1/2

teaspoon

salt

2 1/2

teaspoon

ground aniseed

1 1/2

teaspoon

ground cloves

1

teaspoon

vanilla extract

zest of an orange

2

tablespoon

orange juice

1

tablespoon

water

sesame seeds

for decoration
Instructions
In a large bowl, combine together flour, sugar, salt, baking powder, aniseed, cloves and orange zest.

Add the butter to the dry mixture and combine everything with your hands.

In another bowl mix together the egg, juices and water.

Knead everything together until a dough is formed. Do not worry if the dough gets too crumbly, this is what we want.

Wrap the dough in cling film and place it in the fridge for about an hour.

Pre-heat oven to 200°C/390°F. Line a baking tray with parchment paper. Prepare the sesame seeds in a plate. Set aside.

After taking out the dough, divide into 20 equal pieces. Roll them between your hands until you get rolls of about 20 cm long.

Close the ends together so that it forms a ring, and then twist the ring to get the 8 shape.

Dip the dough into the sesame seeds and then place it on the baking tray.

Leave some space between each biscuit and do not overcrowd the tray as these biscuits tend to rise while baking.

Bake the biscuits for about 10/15 minutes or until lightly golden.

Let them cool on a cooling rack and enjoy!
Notes
Store these biscuits in airtight containers or a good cookie jar and these biscuits can last up to six days; if you can resist.
If you have any questions, feedback or comments on this recipe, please leave a comment below. Please also rate this recipe by double clicking on the stars below. If you did make this recipe, tag @apronandwhisk and hashtag #apronandwhisk, as I'm curious to see what you create!
Don't forget to subscribe to the mailing list down below so to receive the recipe updates straight to your mailbox!