Jump to Recipe
This roasted olives and capers potato salad is ready to make your summer nights unforgettable! Ready in few minutes, this tangy salty potato salad can be enjoyed warm or cold.
Potato salads are an easy great carb addition to every bbq night. There are many ways to dress these salads. However, there seems to be two main classes and preferences. The potato salad with a mayonnaise dressing and the non-mayonnaise ones. I don't have a favourite as such, but I can never say no to the Maltese mayonnaise version! It brings so many childhood memories of warm summer bbq nights by the beach.
However, I tend to find that mayonnaise based potato salads, sometimes can be overpowering and end up all tasting the same if you go overboard with the mayo! On the other hand, the no mayo ones are more varied and they can be really created with anything.
All the ingredients!
As a true Mediterranean islander, I had to create this roasted olives and capers potato salad. Olives and capers are pretty staple ingredients in Maltese and Mediterranean cuisine. These salty and tangy fruits enrich the creamy delicate potatoes flavour so much.
The dressing is mainly made from the leftover oil that the olives are roasted in, mustard, lemon juice and red wine vinegar. For the herbs here you can go with what you prefer, although, my favourite here are parsley, in order to add some freshness, and dried mint. Dried mint here adds a subtle fresh taste but with a slight warm to it, unlike the fresh mint which might be too empowering.
Lastly, I used a shallot and not an onion as it's sweeter! This potato salad already has a lot of strong flavours so if I would have added a normal onion, there would be a lot of flavours fighting together to be the main star. However, shallots are a sweeter alium which balances nicely with the strong distinctive pungent taste of the olives and capers.
Roasting the olives
For this potato salad, you can use straight out of the jar olives, but why stop there? Roasting the olives brings out their flavour and aroma to the full! Also, the olives soften slightly which makes them easier to eat in this salad.
Roasting the olives is relatively easy and quick, so I suggest that you don't skip this part. Also, roasted olives work great over hummus, over whipped feta, with pasta and in sandwiches. To roast the olives, all you need is, to add the olives to a deep baking dish/pan, together with olive oil, salt, pepper and any herb of your liking. Roast everything for about 8-10 minutes at 200°C/400°F. That's it!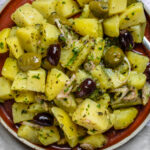 Print Recipe
Roasted Olives and Capers Potato Salad
This roasted olives and capers potato salad is ready to make your summer nights unforgettable! Ready in few minutes, this tangy salty potato salad can be enjoyed warm or cold.
Ingredients
500

g

potatoes

150

g

olives

green and black

1

tbsp

capers chopped

1/2

tbsp

mustard

1

tbsp

Red wine vinegar

30

ml

olive oil

1/2

tbsp

dried mint

2

tbsp

parsley

1/2

lemon juice

1

shallot finely sliced

1

tsp

pepper

1/2

tsp

salt
Instructions
In a large pot, add the potatoes and cover with enough salted water. Bring to a boil over medium heat and cook for about 15 minutes, this will depend on the size of your potatoes.

Preheat the oven to 200°C or 400°F. In a small dish add the olives, olive oil and salt. Stir everything together and roast for about ten minutes.

In a small bowl combine the mustard, red wine vinegar, pepper, lemon juice, parsley and dried mint. Set aside.

Once the potatoes are cooked and fork tender. Let cook slightly until there is no more steam. While the potatoes are still warm add the capers, roasted olives and the shallots. Mix well.

Lastly, dress everything up with that dressing. Taste the potato salad and check if it needs more salt. This will highly depend on your olives.

Serve immediately warm or cold.
If you have any questions, feedback or comments on this recipe, please leave a comment below. Please also rate this recipe by double clicking on the stars below. If you did make this recipe, tag @apronandwhisk and hashtag #apronandwhisk, as I'm curious to see what you create!
Don't forget to subscribe to the mailing list down below so to receive the recipe updates straight to your mailbox!