Jump to Recipe
Qarnit bit-tewm is tender octopus in garlic, parsley and plenty of olive oil! A perfect appetizer on its own, or for dinner!
Growing up in Malta, I used to eat octopus frequently! My father had friends who used to go catch octopus, so whenever they went we always got some as well. We never really complained, on the contrary, as everyone in our house love octopus. Most often, my mother used to make octopus stew. Either to serve as is with potatoes and plenty of bread, or with pasta. Another way we used to eat it was with garlic (qarnit bit-tewm), like in this recipe.
Qarnit bit-tewm
A staple in many Maltese households. The octopus is first cooked, then chopped up and finally dressed with a herby garlic dressing. The dressing is made from plenty of minced fresh garlic, a handful of parsley, a good olive oil, red wine vinegar and a generous amount of salt and pepper.
Cooking the octopus
There are several techniques of how to cook octopus: you find people that tell you that there is no need to boil it, others to cook it from frozen, others to beat the octopus before cooking, others to tell you to put a corkscrew in the pot whilst the octopus is boiling and so on.
Personally, I have two ways of making it, but I do have a favourite way of doing it. The first method is the way my mother does it; boiling the octopus in water. Fill a large pot with warm water and add the octopus. Let it cook until tender. Normally it takes about 1 hour for a 1kg octopus. This method is great to curl up the octopus tentacles easily and equally. However, my go to method is to let the octopus cook in its own water. I simply add some olive oil to a large pot and let it heat for a bit. Put the octopus with some bay leaves and peppercorns in the pot, cover and let it cook for 10 minutes. Check on it and see if the octopus has started to release its water. Turn it and let it cook until it's nice and tender. To check if it is, simply pierce it with a fork, if it goes in effortlessly it's done! If it's still slightly resistant, let it cook for some more time.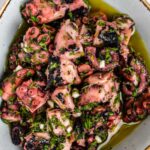 Print Recipe
Qarnit bit-Tewm – Octopus with Garlic
Tender octopus with garlic, parsley and plenty of olive oil! A perfect appetizer on its own, or for dinner!
Ingredients
1

kg

octopus

6

garlic cloves

minced

juice of half a lemon

1

tbsp

red wine vinegar

4

tbsp

olive oil

a bunch of parsley

chopped

1/2

tsp

chili flakes

optional

2

bay leaves

1

tbsp

peppercorns

salt and pepper

to taste
Instructions
In a large heavy bottomed pot, add a table spoon of olive oil, bay leaves and peppercorn. Place it on medium heat.

Immediately, add the octopus to the pot and cover. Let it cook for about 45 minutes or an hour, or until you can pierce it easily with a fork.

When ready drain the octopus and let it cool for a few minutes. Reserve some of the water released from the octopus.

In a small bowl combine together the olive oil, red wine vinegar, minced garlic, chopped parsley, chili flakes and lemon juice. Set aside.

Chop the octopus tentacles into small pieces of about 3 cm in size and place into a large bowl.

Mix the octopus with the prepared mixture and add about a tablespoon of the juices which the octopus released while cooking.

Season with salt and pepper to taste. Sprinkle some extra parsley on top.

Serve immediately or cold. It can stay in the fridge in an air tight container for about 2 days.
If you have any questions, feedback or comments on this recipe, please leave a comment below. Please also rate this recipe by double clicking on the stars below. If you did make this recipe, tag @apronandwhisk and hashtag #apronandwhisk, as I'm curious to see what you create!
Don't forget to subscribe to the mailing list down below so to receive the recipe updates straight to your mailbox!