Jump to Recipe
Crunchy rustic olive bread buns with a light crumb. Perfect to enjoy warm on their own or to compliment your favourite dish!
Making bread is truly therapeutic for me! Preparing buns or rolls is a great way to always have bread on hand whenever you need it. I like to freeze some for when I need a quick snack or for lunch during the week. This recipe focuses on an easy crunchy rustic bread filled with olives. This bread is quite easy to make as it doesn't have a lot of kneading to do. All you need is to be patient and let the dough rise slowly in different steps. The method for these rustic olive bread buns is similar to same day focaccia recipe or the ciabatta bread!
How to make these rustic olive bread buns?
To make these buns, start by mixing lukewarm water, yeast and olive oil in a large bowl. Add the flour and combine until you get a shaggy sticky dough. Cover the bowl and let the dough rest for 15 minutes. Afterwards, stretch and fold the dough. To do so, start by taking a side of the dough and lift it towards you and fold it over the dough. Repeat on all sides of the dough for at least two times. Cover the dough again and let it rest for another 15 minutes. At this point the dough is still sticky but it's more manageable to work with. After this second rise, add in the olives, stretch and fold to mix them in the dough.
Cover the dough again and let it rest for at least 1 hour 30 minutes or until the dough has doubled in size. Generously flour your working area and your hands. Drop the dough over the floured surface, gently fold it to form a log. Be careful not to overwork the dough, we want all the air to stay in the risen dough. Cut 8 pieces of dough. Do not worry if they are not even looking or have an odd shape, this will make them even more rustic! Bake them for 20 minutes at 200°C, or until the breads have a nice crunchy golden brown crust.
FAQs
Should I add more flour if my dough is wet and sticky?
No! This is essential. The dough will get easier to work with once you let it rest. It's important to incorporate all the flour however do not add more than listed. If you add more, these rustic buns won't have the same airy crumb with a crunchy crust. Instead they will end up hard and spongey.
When to add the olives?
I like to add the olives during the second rise, just before leaving it to rest for the longest period.
Can I add other toppings to these rustic bread buns?
Of course! Olives are just one sample of toppings you can use. You can either leave them plain or add any other toppings you prefer. However, be careful when adding wet ingredients as these might change the consistency of the breads! Some of my other favourite toppings are sun dried tomatoes, onions, garlic, nuts, dried cheese and dried fruits!
Can I let my dough rise overnight?
Yes! If you don't want to do these rustic buns on the same day, you can skip the 1 hour 30 minutes rest by placing the dough in a sealed bowl in the fridge. You can leave it for up to 16 hours in the fridge! Once prepared to bake, take the dough out and instead of 30 minutes, I would recommend to leave the buns to rest for an hour so that the dough isn't too cold before baking.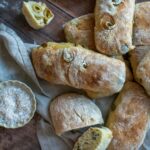 Print Recipe
Rustic Olive Bread Buns
Crunchy rustic olive bread buns with a light crumb. Perfect to enjoy on their own warm or to compliment your favourite dish!
Ingredients
500

g

bread flour

380

ml

water

7

g

active dry yeast

10

g

salt

150

g

olives

15

ml

olive oil
Instructions
In a large bowl add the lukewarm water, olive oil and yeast. Mix well and set aside for a couple of minutes.

Add the flour and salt to the yeast mixture. Combine together until you get a uniform dough. It should be sticky! Don't put any extra flour.

Cover the bowl with a towel and let rest for 15 minutes.

After this first rest, quickly stretch and pull the dough for some minutes in the bowl. The dough should be easier to work with and less stickier. Cover and let rest for another 15 minutes.

After this second rise, add the chopped/whole olives and stretch and fold the dough until they are evenly distributed.

Cover and let rest for 1 hour 30 minutes, until it doubles in size.

Line a large baking tray with parchment paper and dust it with flour. Set aside

Once the dough is doubled in size, transfer it to a well floured surface. Flour your hands generously. Without punching out any air, fold the dough on itself to form a long log. Divide the dough into 8 equal parts. Place the pieces of dough on the prepared tray keeping a good amount of space between each one. Cover and let rise for another 30 minutes.

Preheat the oven to 200°C or 400°F while the buns are rising.

Bake in the oven for about 20 minutes, until the buns have a nice golden brown colour.