Jump to Recipe
A classic weekend brunch dish! Serve this heartwarming sausage and ġbejna baked eggs with plenty of crusty bread and a good cup of coffee!
During the week I can go without having breakfast but during the weekends it's another story! I just love waking up and prepare a great brunch dish. Normally, I tend to cook more of sweet dishes such as pancakes, french toast or waffles. But when I make something savoury, this is what I will be making. Baked eggs are a perfect way to start the day! These baked eggs are packed full of potatoes, sausage, caramelised onions and loads of grated ġbejna cheese. It's a flavour bomb! The sweet flavours from the onions, the salty sausage, the tangy cheese and the delicate eggs are a match made in heaven. As this dish it's quite a filling one, it works great also as a weeknight easy dinner.
Sausage and Ġbejna Baked Eggs Ingredients
Ġbejna Cheese: I have used two small dried peppered ġbejna cheese, that I grated myself. You can also use plain dried ġbejna or a herbed one. If you don't have access to ġbejna cheese, you can use grated halloumi, crumbled feta or goat cheese. I would recommend a bold tangy cheese here, as the other ingredients are a bit sweeter.
Sausage: Italian sausage works great here! However, you can use any sausage to your liking. Also, you can omit the casing of the sausage if you prefer.
Onions: White brown onion is the onion I go for. Although, I have also done this recipe with a mix of brown and red onion. Shallots will be delicious also!
Potatoes: I would recommend using potatoes that you normally use for roasting. Baby potatoes are great too! You can also leave them unpeeled to give that deeper flavour.
Herbs: I used fresh rosemary and thyme sprigs during the cooking process and discarded them just at the end. Finished the dish off with some fresh sliced basil leaves.
Eggs: They are the ingredient that makes this dish. Use the best and freshest eggs you can find. Adjust the cooking time depending of how much you like your egg yolk cooked.
How to make Baked Eggs
Start by preparing the potatoes. Peel, chop and boil the potatoes until they are fork tender. While the potatoes are cooking, in a large hot skillet or cast iron caramelise the sliced onions in butter. You can use a pan, however, make sure that the pan can go into the oven. Once they start to soften and start getting slightly brown, add the sliced sausage and the herbs. Let everything cook for some minutes. Once the sausage is almost done, add the potatoes and season everything. Do not stir frequently now, so that the potatoes brown and crisp up. Once everything is almost done, make four wells and drop the eggs in. Sprinkle the grated ġbejna cheese over everything. Place the skillet in the oven for about 3 minutes until the eggs cook. This will make runny eggs, so that if you want a more cooked egg, let it cook for longer.
Sausage and Ġbejna baked Eggs FAQs
Can I prepare this in advance?
You can prepare the dish in advance. However, I don't recommend finishing it all well in advance. What I recommend is that you prepare in advance all the cooking before adding the eggs. When ready to serve simply warm up the mixture, add the eggs and put in the oven. Serve immediately warm!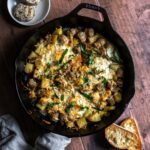 Print Recipe
Sausage and Ġbejna Baked Eggs
A classic weekend brunch dish! Serve this heartwarming sausage and ġbejna baked eggs with plenty of crusty bread and a good cup of coffee!
Ingredients
4

eggs

1

large onion

sliced

120

g

ġbejna cheese

grated

200

g

Italian sausage

200

g

potatoes

30

g

butter

1

tsp

cumin

rosemary sprigs

thyme sprigs

fresh basil

sliced
Instructions
Start by prepping the potatoes and boil them until fork tender, about 7 minutes.

In a skillet/cast iron heat the butter and fry the onion on low heat. Let the onions cook until they start to caramelise, this should take about 10 minutes.

Preheat the oven to 200°C or 400°F.

Once the onions are soft and getting a brownish colour, add in the sausage together with the rosemary and thyme sprigs. Cook until nice and fragrant.

As soon as the sausage is almost cooked, add the drained boiled potatoes to the cast iron. Season with cumin, salt and pepper. Let the potatoes brown and crisp slightly over medium heat.

Make mini wells and crack the eggs into them. Sprinkle the grated ġbejna on top of everything generously.

Transfer the pan to the oven and cook for about 5 minutes. If you do not want runny eggs, leave for about 3 minutes.

As soon as it's out of the oven, sprinkle the fresh basil on top. Serve immediately with plenty of crusty bread. Enjoy!
If you have any questions, feedback or comments on this recipe, please leave a comment below. Please also rate this recipe by double clicking on the stars below. If you did make this recipe, tag @apronandwhisk and hashtag #apronandwhisk, as I'm curious to see what you create!
Don't forget to subscribe to the mailing list down below so to receive the recipe updates straight to your mailbox!