Jump to Recipe
This tuna and artichoke gnocchi makes the perfect easy spring dinner. Ready in 30 minutes, this gnocchi recipe is packed with Mediterranean flavours that everyone loves.
Gnocchi are always a favourite whenever I don't know what to make. One of my favourite ways to make them is either a la Sorrentina during colder days or with Asparagus and Peas during spring. Unlike these two, this gnocchi recipe doesn't have a luscious sauce. It is almost like a hybrid salad with gnocchi. This recipe has been a favourite for a while now! In fact, I often used to prepare this dish to take with me at work for lunch. It's so easy and versatile, I'm obsessed!
How to make Tuna and Artichoke Gnocchi
The first thing to do in this recipe is to cook the tuna. I like to bake mine in the oven for about 10 minutes, the timing highly depends on the cut of the tuna. In a large skillet, I heat some olive oil and pan fry the gnocchi until they have a nice golden colour. Once this is done I add all the artichoke hearts, tomatoes, white beans, olives, onion and garlic.
Ideally, I like to use artichokes in brine and not the marinated ones. I like to use these as they end up absorbing the flavours of the dish. Whereas the already marinated ones, with their seasonings might take over this gnocchi dish. In addition, I like to only cut the artichoke in half. However, you can really cut them up how you like!
Main or Side dish
This dish is a perfect easy weeknight dinner ready in no more than 30 minutes. Serve it up as a main dish and it will fill everyone up easily. You can also omit the tuna steaks and serve this gnocchi dish as a side dish, just like a hearty rich salad. As this gnocchi dish isn't based around a sauce, it can also be easily enjoyed as a take away lunch.
Recipe Variations
This recipe is super versatile. Other proteins to use instead of tuna are slices of grilled chicken, sautéed shrimp or salmon chunks. You can easily also make it vegan by omitting the tuna steaks. As there are white beans in this dish, there is no need to add any other protein. However, you can substitue the tuna with spinach, tofu or even avocado, for that extra protein.
How to store and reheat:
Store any leftovers in an airtight container in the fridge for up to 4 days. You can either enjoy any leftovers cold, or else you can heat everything gently in the microwave or on the stovetop.
Looking for more gnocchi recipes?
Gorgonzola Gnocchi with Crispy Prosciutto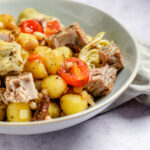 Print Recipe
Tuna and Artichoke Gnocchi
This tuna and artichoke gnocchi makes the perfect easy spring dinner. Ready in 30 minutes, this gnocchi recipe is packed with Mediterranean flavours that everyone loves.
Ingredients
500

g

gnocchi

2

tuna steak fillets

about 125g each

300

g

cherry tomatoes

halved

250

g

artichoke hearts

halved

1

tbsp

red wine vinegar

3

tbsp

olive oil

1

small brown onion

diced

4

garlic cloves

minced

8

kalamata olives

sliced

125g

white beans or chickpeas

1 small can

1

tsp

dried oregano

1

tsp

dried basil

1

tsp

black pepper

1/2

tsp

salt
Instructions
Preheat the oven to 220°C. Coat the tuna steaks with olive oil and season with salt & pepper. Bake for about 10 minutes. Set aside until ready to serve.

In a large skillet heat 2 tablespoons of olive oil over medium heat. Once hot, add the gnocchi, stir occasionally and let them cook for about 5 minutes until they start to brown. Transfer to a bowl and set aside.

To the same skillet add the remaining oil, together with the onion. Let it cook for about 5 minutes. Add the garlic, dried herbs and let cook until fragrant.

Add the beans, artichokes, tomatoes and season with salt and pepper. Mix everything and let cook for about 3 minutes until the tomatoes start to break.

Add the olives, red wine vinegar and the cooked gnocchi back to the skillet, and mix.

Cut the tuna steaks in chunks and add to the gnocchi.
If you have any questions, feedback or comments on this recipe, please leave a comment below. Please also rate this recipe by double clicking on the stars below. If you did make this recipe, tag @apronandwhisk and hashtag #apronandwhisk, as I'm curious to see what you create!
Don't forget to subscribe to the mailing list down below so to receive the recipe updates straight to your mailbox!