Jump to Recipe
This zesty rice salad is a perfect dish to be beat the heat! Made out of fresh ingredients, this salad will make your summer days better.
When the heat starts I opt for easy to make recipes with fresh ingredients and the least cooking as possible. For this reason, rice salads are a favourite of mine! In fact, in Malta we tend to eat a lot of different types of rice salads. The most common is the typical bbq side Maltese tuna rice salad. Even though this is a staple at my house, sometimes I like to change it up a bit. This zesty rice salad is slightly different as it has a higher fresh ingredients to rice ratio and a strong flavourful tasteful dressing. Apart from serving this salad as a side, I prefer having it on it's own as a light lunch.
What type of rice is best for this salad?
One of the main ingredients of this salad is rice. There are many different types of rice and some are better than others for salad. The best one is ribe rice (my favourite). This rice grain is super versatile, medium sized and keeps its firmness without getting soggy. Another great option is arborio rice. Long grain rice such as basmati and jasmine can be used as well, however, you need to be careful how to cook these. You don't want your rice to break and get soggy and sticky.
How to make this zesty rice salad?
Making this rice salad is relatively easy! I start by cooking the rice and the eggs at the same time, so to minimize the amount of time I need to leave the burners on. In the meantime, I chop all the ingredients. Unlike the more traditional Maltese rice salad where I like to chop everything thinly, for this salad I prefer to keep the ingredients a bit chunkier for more of a bite. Once everything is prepared, mix everything together. I would recommend to let the rice salad rest for a few minutes so that the salad absorbs most of the salad dressing.
What's in the salad dressing?
This zesty salad dressing is what gives this rice salad a distinctive taste. For this reason, I like to go heavy on my juices and vinegars for a stronger pungent taste. I mix in the basic salad dressing ingredients; olive oil, honey, mustard, salt, pepper and my zesty ingredients. Here I used a mix of freshly squeezed lemon juice and some white wine vinegar. However, you can use only lemon juice for that added freshness taste. You can also mix lemon and orange juice, that will give it some added citrusy sweetness. One thing which is essential, is to mix the dressing well! I like to dump all of my ingredients in a small container with lid and shake vigorously until the dressing looks all emulsified.
FAQs
How to serve this salad?
You can serve this salad just as is, for a quick light lunch, or else as a side dish for your bbq night! You can also remove the tuna from this salad and serve the rice salad with a fresh grilled salmon. The options are endless!
Do I have to use all of these ingredients?
Of course not! You can reduce the amount of ingredients you add to your salad, or even you can increase with any other topping you like! Here I'm just sharing one of my favourite versions of this salad, however, you can easily swap things out with whatever you have on hand!
How to store this rice salad?
If you have any leftovers, store them in an airtight container in the fridge for not more than 3 days. Before serving, I also like to drizzle some olive oil to bring it back more to life.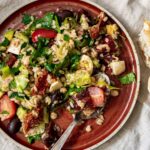 Print Recipe
Zesty Rice Salad
Ingredients
200

g

rice

ribe or arborio

1

can tuna

in olive oil

50

g

kalamata olives

150

g

cherry tomatoes

halved

6

sun dried tomatoes

halved

½

cucumber

1

avocado

1

small can of cannellini beans

2

eggs

quartered

2

cooked beetroots

diced

2

spring onions

1

tsp

dried mint

handful parsley

roughly chopped

1

tbsp

pumpkin seeds

1/2

tsp

chili flakes
Zesty Dressing
3

tbsp

extra virgin olive oil

2

tbsp

lemon juice

1

tbsp

white wine vinegar

1

tsp

honey

1

tsp

mustard

1

tsp

sea salt flakes

1/2

tsp

black pepper
Instructions
In a pot of water cook the eggs until your desired consistency (jammy or hard boiled).

Cook the rice according to instructions. I cooked my ribe rice in a large pot of boiling water for about 10-12 minutes.

Prepare all the other ingredients as needed and place them in a large mixing bowl.

In a small bowl prepare the zesty dressing.

Once cooked, drain the rice and mix it together with the chopped ingredients. Drizzle over the dressing and combine.

Serve immediately or cold.
If you have any questions, feedback or comments on this recipe, please leave a comment below. Please also rate this recipe by double clicking on the stars below. If you did make this recipe, tag @apronandwhisk and hashtag #apronandwhisk, as I'm curious to see what you create!
Don't forget to subscribe to the mailing list down below so to receive the recipe updates straight to your mailbox!